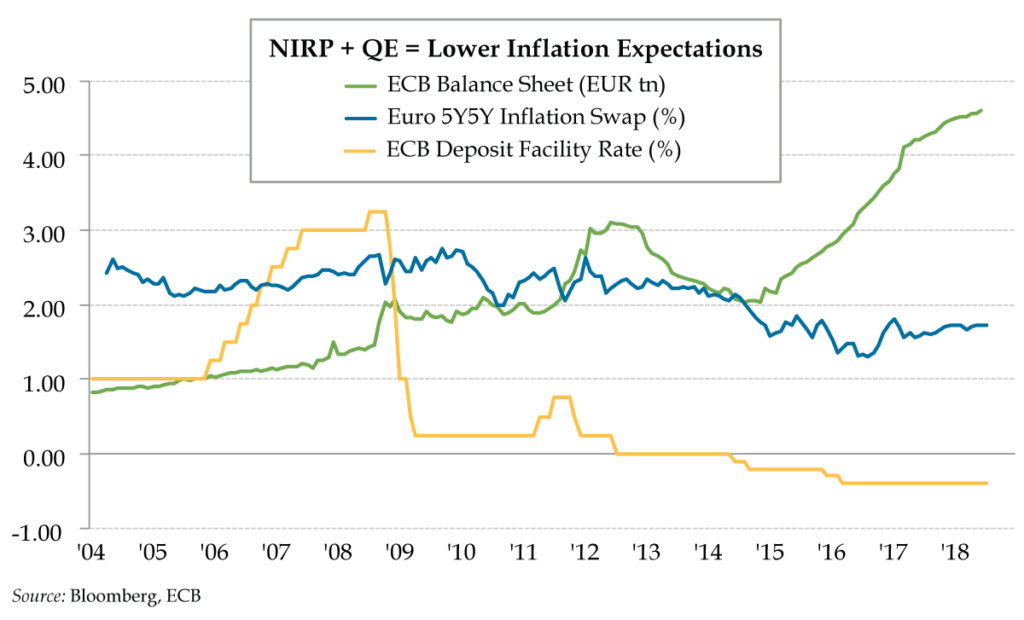 VIPs
ECB halving QE again to €15 billion come October 1st; will Draghi follow through with final taper?
Post-QE, focus will shift to raising rates out of negative territory by this time next year
Eurozone bonds are one of the greatest asset bubbles in modern financial market history
Italy's recent yield spike may be a precursor of things to come across the broader region
Eurozone confidence taking a hit, pushing 18-month lows and pressuring economic growth
Even as ECB balance sheet continues to grow, collateral damage from 2% inflation target has begun to unfold
Imagine Dragon frontman Dan Reynolds is a true musical pioneer. To record a song about unbridled ambition inspired by an equally ambitious central banker? Now that's impressive. The public agreed sending the song "Whatever it Takes" to No. 12 on the Billboard Hot 100 list.
The question is what does Mario Draghi do for an encore? The stage is set for the European Central Bank (ECB) president Mario Draghi, though his job isn't getting any easier. As a friendly reminder, the European Central Bank (ECB) has laid out a plan to halve its monthly asset purchases to a monthly pace of €15 billion come October 1st. This will be the second run at prudence. The ECB started the year by cutting its QE to €30 billion from the €60 billion monthly pace it had been running at. By yearend, the balance sheet should stop growing altogether leaving only reinvestments in the wake of the monumental program.
Next on the agenda is raising the negative deposit rate of .40% sometime around the summer of 2019. If headline inflation was their guide, the ECB could have declared victory as the June CPI print, which came in 2% on the nose. But what fun is that for cooing doves? Focus instead on core CPI of 0.9% which of course fails to meet the target standard.
It's difficult to quantify how dominant the ECB has been in Eurozone bond markets. At the peak of its QE, the Federal Reserve bought about 25% of net new issuance of US Treasuries and MBS. At last year's peak QE run rate of €80 billion, the ECB was buying seven times net issuance. Add in negative deposit interest rates; it boggles the mind to comprehend where the ECB has been able to take European interest rates.
Don't try to get there without a microscope. German interest rates are negative out to six-year maturities; Bunds' 10-year yield is just .39%. Portuguese yields are below zero three years out; they can borrow 10-year money for 1.73%. The Netherlands issue 10-year paper at .50%.
If you're fortunate enough to be a European high yield issuer, you'll have to cough up 3.40% to borrow. (It's a shame you didn't cash in back in November when it was just 1.90%.)  At the risk of downplaying the obvious, call this one of the greatest bubbles in the history of asset markets. In true Ponzi-scheme spirit, gains can only be secured via buy-in by greater fools.
This year has delivered the first of what promise to be many coal-mine inhabiting canaries, or better said, "canarinos." Italy has only had 65 governments in the past 70 years. But the formation of the latest one seems to have caused a major ruckus in the markets. Populism and the third largest sovereign bond market in the world, go figure. In any event, on May 11th, the Italian 2-year yield closed at -.27%; 17 days later it traded at 2.77%. We believe the term is "crash." Even with the recent calming, at +.65%, the Italian 2-year it still well off its May low.
By the way, in 5000 years of interest rate history, plus signs in front of interest rates were a given as there had never been any such thing as a negative yield. Is the Italian market disruption a dress rehearsal of what's to come when the ECB ends its QE program? We say yes.
What else has changed of late? European economic growth ended last year on a high note, turning in GDP growth of 2.8% over the prior year in 2017's final quarter. That pace has downshifted to the 2% neighborhood which is still healthy, all things considered.
Tariff anxiety is not surprisingly the cause given the economic zone's reliance on exports. The Eurozone has a trade surplus with the rest of the world with Germany being the juggernaut; 40% of its economy keys off exports. The bane of uncertainty has crept into the data. Both French manufacturing sentiment and German business confidence fell to 16-month lows. The broader Markit Eurozone manufacturing and services composite index for July printed at its second weakest level since December 2016.
The ECB's 2% inflation target scorched earth policy has exacted untold damage in recent years. Signore Draghi, where do you go from here with your preferred inflation gauge at half of where you want it to be and your balance sheet a bloated €4.6 trillion ($5.4 trillion)? Whatever will it take to get interest rates back into positive territory even as economic growth slows? Does it worry you that your home country wiped clean years of your QE exertions to drive down yields in a matter of weeks? What's to come of your euro's fate if whatever it takes falls short?