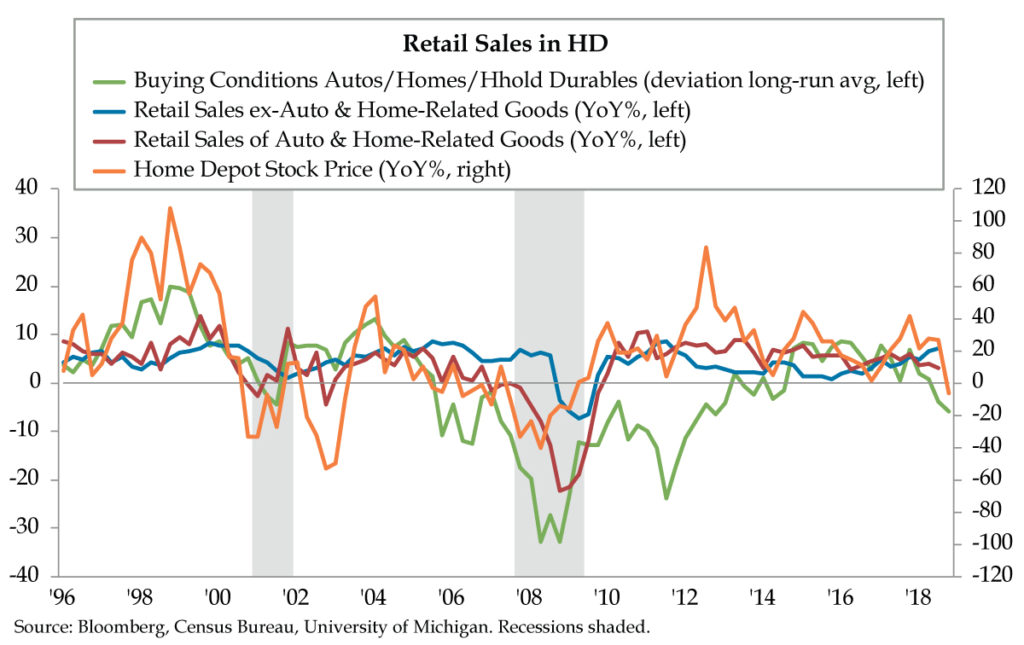 VIPs
Economists are expecting the 12thconsecutive monthly gain when tomorrow's retail sales are reported for October; that would mark a record period of positive persistence
Consumption has been buttressed by tax cuts, wage inflation and low unemployment coupled with asset appreciation in stocks and housing emboldening households to buy on credit; a depletion in personal savings has also underpinned spending
Autos and home-related goods have underperformed spending on non-discretionary goods and services, a.k.a. everything else, for all of 2018; this is a late-cycle signal
A deterioration in buying intentions in The University of Michigan's Survey of Consumers flagged the slowing trend in autos and home-related items; the dual culprits of high prices and rising interest rates have accounted for the bulk of the deterioration
Average household buying conditions for autos, homes and large household durable goods crested at the beginning of 2016 and fell below its long-run average in the 2ndhalf of 2018; add another late-cycle signal to the list
Home Depot's stock has been a proxy for home-related items and surprisingly that of autos as well; the more mature the cycle, the more sensitive HD stock is to interest rates
Have you ever had a "jump scare?" You know, those all-consuming jolts that seize up every muscle in your body for a split second. For those with weak bladders, it makes you pee a little (tee-hee). Horror film fans are all too familiar. The quiet buildup to a jump scare lulls moviegoers into a false sense of security before an excruciating explosion of ear-splitting drama.
One example of this buildup in our world: sell-side economists' blanket take on retail sales over the last year. The Bloomberg survey of economists has already set a record for expectations in terms of persistence: the consensus forecasts consecutive monthly gain #12 headed into tomorrow's report.
We're not necessarily questioning the tenacity of expected optimism in retail spending. Consumers have been buttressed by tax cuts, falling unemployment, higher wage inflation, the freedom to switch to better jobs and rising stock and home prices. Improving income expectations naturally raised households' willingness to borrow tomorrow's income today. Households have been buying on plastic and running down their personal savings to spend more than they make for seven months running. But even to our discerning eyes, the backdrop is eerily quiet.
The big picture always hides vulnerabilities as does the presentation of the retail sales data itself. For those of you with Bloomberg free time, retail sales hits the ECO (economic calendar) page with four "headline" numbers — the top-line, excluding-autos, excluding-autos and gas and the control group (excluding-autos, gas and building materials). If you're not familiar with the last one, it's THE direct consumer spending input that feeds GDP.
What won't you see? That would be retail sales excluding autos and home-related goods, the latter consisting of furniture, home furnishings, electronics and appliances. The reason? We haven't a clue given the insights conveyed. These five sub-categories capture spending in the key cyclical sectors of autos and housing; net them out and you've succeeded in teasing out the discretionary from the necessity. You'll note the two have moved away from each other this year — autos and home-related goods have underperformed spending on everything else for all of 2018. Students of business cycles, take note: this is a late-cycle signal.
The University of Michigan's Survey of Consumers gave us a heads-up that the slowing trend in autos and home-related sales would occur. Higher prices and rising interest rates have priced buyers out from the lower rungs of the income-Jenga Tower upward; that accounts for the most recent deterioration.
A combined metric of average household buying conditions for autos, homes and large household durable goods crested for the cycle at the beginning of 2016 and fell below its long-run average in the second half of 2018. Don't put that pencil down! This too is a late-cycle signal.
What about micro data to explain the macro slowing in auto and home-related retail? More saving. More doing. Yes, Home Depot's (HD) stock price performance is another helpful signpost when it's draped over the last few business cycles. In fact, it doesn't just track auto and home-related sales, it leads them. Wouldn't you know it, so far in this fourth quarter, the stock price has declined on a year-over-year basis for the first time this expansion. Did we say class dismissed? This is a glaring late-cycle signal.
To state that HD is a proxy for home-related retail sales is redundant. A breakdown of HD's customer base into these three categories sheds all the light you need:
Do-it-yourselfers who buy products and install them themselves in their homes.
Do-it-for-me customers who choose HD's own installation or consulting services.
Professional customers such as contractors, builders, plumbers, painters, and other home-improvement experts that do the whole job for those who can afford to pay someone to do it all for them.
The topping out in HD's stock also could be a signal that the National Association of Home Builders (NAHB) Remodeling Market Index is set for a further move down after peaking for the cycle in last year's fourth quarter. The Remodeling Index combines current market conditions for major and minor additions and repairs with future expectations like calls for bids and the amount of work committed for the next three months.
But HD as a proxy for auto sales? C'mon. Would we steer you wrong? HD stock performance also does a decent job tracking retail auto sales. What might help square the circle is the fact that auto, home and home-related goods all can be financed with credit. The more mature the cycle, the more sensitive it is to rising rates.
If there's one micro indicator to add to your macro quiver of cycle trackers, it's HD stock. It's sure to help you avoid the gut-wrenching jolt of a jump scare.