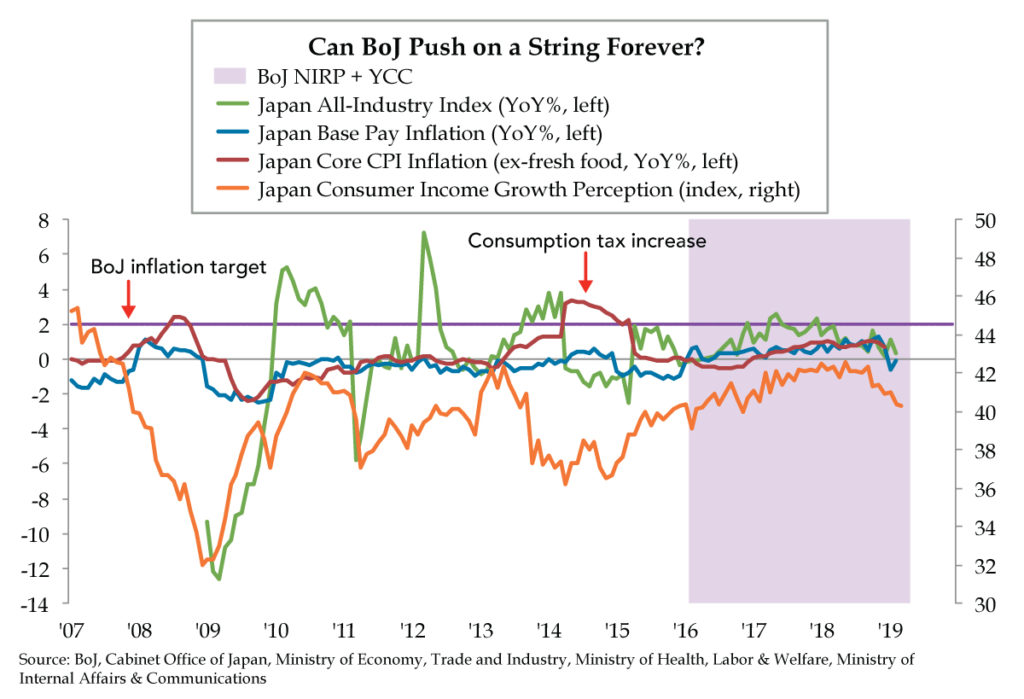 VIPs
The Bank of Japan's new forecast is expected to show Japan will fall short of its inflation target after nine years of unprecedented stimulus; the only time inflation was above the BoJ's target was from April 2014-March 2015 care of a consumption tax increase
The BoJ implemented Negative Interest Rate Policy (NIRP) and Yield Curve Control (YCC) in February 2016 hoping these policies would combat deflation; while core inflation has risen from a low of -0.5% to 0.8%, their 2% target continues to elude
Perceived and actual income gains were a welcome outgrowth of NIRP and YCC; income perceptions hit an 11-year high last year while base pay reached an 18-year high on the heels of thirty-one consecutive months of growth
In 2019, widespread wage deflation has hit cyclical industries particularly hard; February industrial production slid into contraction after 28 months of expansion while Japan's all-industry index posted its third decline in four months
The reappearance of wage deflation coupled with slowing economic growth give us little confidence the BoJ will hit its inflation target before the planned increase in consumption taxes come October
Can't place a facade with the name Midvale? Never strolled down its hallowed halls? Didn't think so. In keeping with yesterday's caricature theme, it was Gary Larson, creator of The Far Side who bequeathed the world the fictional Midvale. Larson's syndicated single-panel comic enjoyed a 15-year run that ended in 1995, when he retired his pencil for good. Few dispute the genius of Larson's "Midvale School for the Gifted" which depicted a seemingly smart kid performing a stupid act — pushing on a door that says "Pull." We've all caught ourselves doing this. Embarrassed, we laugh it off and pull open the door. But Larson's art only afforded him one frame. And by the looks of it, the kid and the door are – and will be – in détente in perpetuity.
Sound like any central banks you know? Does the Bank of Japan (BoJ) come to mind, Pavlovian-style? Bloomberg's "BoJ Decision Day Guide" drove straight to the heart of the dilemma (bolding ours): "Governor Haruhiko Kuroda will face a grilling Thursday when the central bank releases a new forecast expected to show Japan will fall short of its inflation target after nine years of unprecedented stimulus." Imagine Kuroda as that kid in the Far Side comic. Boy, his arm must be tired!
We can't help but think that the BoJ has been "pushing on a string" – the phrase coined by Fed Governor Marriner Eccles in 1935 – for the better part of the last decade. The only period when inflation ran above the BoJ's target was the 12 months through March 2015, a span for which the BoJ cannot even take credit. That goes to the Japanese government which had imposed a consumption tax increase, from 5% to 8%.
Once this one-off event became the new baseline, core inflation reverted to near zero and, eventually, mild deflation. That's when the BoJ decided to pull out all the stops. Enter Negative Interest Rate Policy (NIRP) and Yield Curve Control (YCC), policies that have been in place since February 2016. Three years later, core inflation has risen from 2016's third-quarter low -0.5% year-over-year to March 2019's 0.8%. Improvement? Yes. Mission accomplished? Hardly.
One manifestation of NIRP and YCC has been a steady grind higher in consumers' income growth perceptions and base pay inflation. Both have come to pass — income perceptions hit an 11-year high last May and were followed six months later by an 18-year high in base pay inflation.
What struck us most about wage pressure (it would) was its persistence. Thirty-one consecutive months of expansion in base pay through December 2018; the last time that happened was between 1996 and 1998. For a central bank attempting a high risk NIRP and YCC experiment, Kuroda & Co. must have been feeling vindicated. But the good times didn't last.
This January, wage inflation hit a wall as activity in the production chain abruptly slowed and bled through to distribution channels. Blame the global slowdown. At -0.6%, base pay fell into deflationary territory in January and remained in the red in February, at -0.1%.
While the slowing in income growth was widespread, the weakness was most prominent in the cyclical sectors of manufacturing, wholesale, retail and transportation. After 28 straight months of expansion through November 2018, industrial production skidded to a -1.2% year-over-year contraction in February.
As if to punctuate the trend, yesterday's reported February Japanese all-industry index – a GDP proxy for the economy as a whole — posted its third decline in four months, braking to a barely decipherable 0.4% growth rate over the last 12 months.
None of these developments induce confidence in the BoJ hitting its inflation target any time soon. Sure, the scheduled October 2019 consumption tax increase, from 8% to 10%, remains on the table. But with wage deflation rearing its ugly head and the economy slowing with six months before potential enactment, the -2.2% fourth-quarter 2019 consensus GDP decline expected by sell-side economists seems like an optimistic forecast. Can we also agree that the current recession probability of 35% is underpriced?
The BoJ's credibility was lost long ago. Any glimmer of hope that it could reestablish its standing using risky and untested monetary policy has sadly been dashed. NIRP and YCC have failed.
Don't you think it's time the kid lifted his head, comprehended the directive and pulled open the door? At the risk of waxing extreme, why not contemplate something radical such as ending NIRP and YCC? Heck, less predictable monetary policy might even mean the yen would no longer be a port in a storm for safe haven flows?
We're quite certain, Mr. Kuroda, you'd concur that any path to currency depreciation would go a long way towards raising inflation. Try pulling for a change. You might just like getting to the other side for a welcome change.