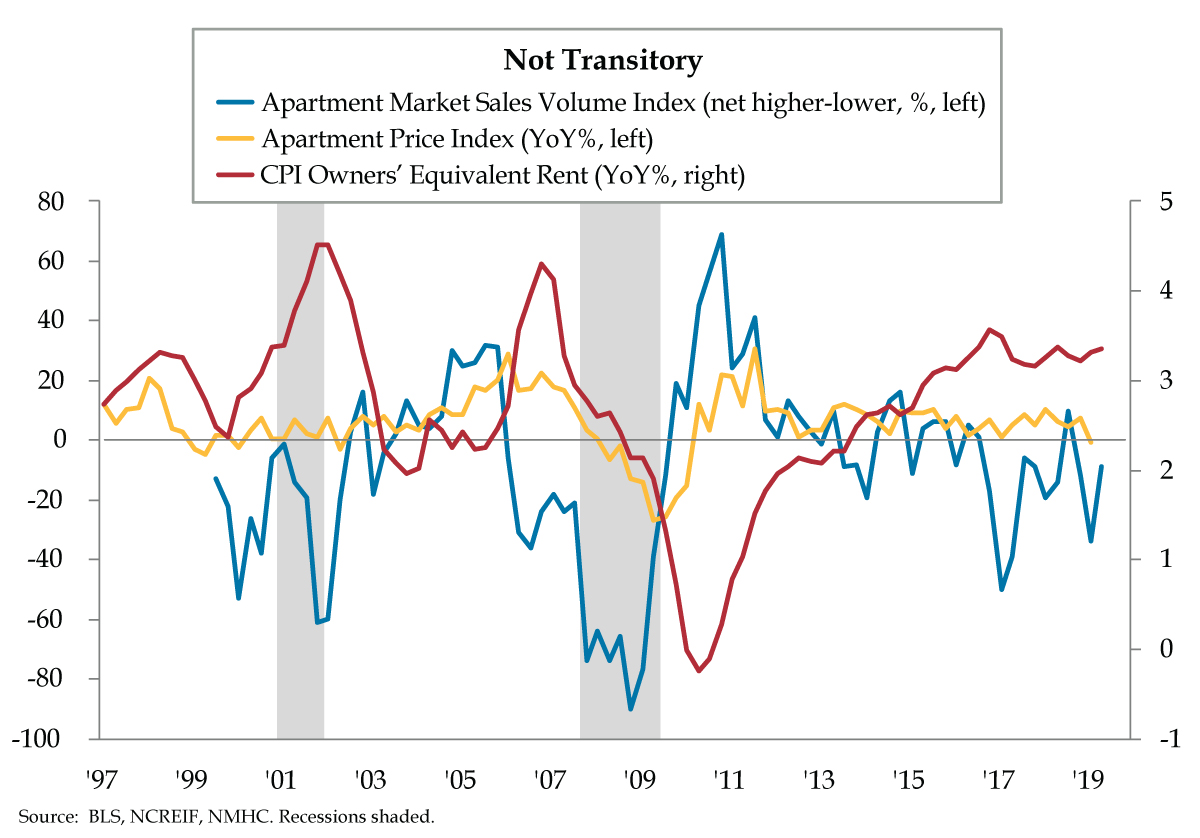 VIPs
Home renters have a higher tendency to tap payday loans; with median national rents hitting a record first-quarter high of $1,060, the risk of leaning on these high-rate loans is rising
Even with rents at peak levels, demand for apartments has declined, contracting in 10 of the last 11 quarters, despite favorable financing conditions
The Fed's SLOOS has been flagging tightening lending standards for multifamily loans for nearly four years; banks have also reported weakness in demand for multi-family homes going back 10 straight quarters
Owner's Equivalent Rent (OER) carries the heaviest weight in core CPI and tends to persist on the upside and downside once price moves commence; the risks to the downside for rental inflation are elevated in the coming 12 months
Declining OER could be the catalyst for core inflation to remain below target, opening the door for a greater probability of rate cuts by the Fed; lower short-term real rates would trigger falling inflation expectations and shift the entire yield curve lower
The name Milton S. Hershey is synonymous with chocolate. But Hershey isn't where Hershey cut his teeth. His first successful foray into sweets was the Lancaster Caramel Company. In fact, chocolates were a subsidiary of the caramel parent company in the 1890s before he sold Lancaster in 1900 to the American Caramel Company for a cool $1 million. Today, Hershey's Bars, Hershey's Kisses and Reese's Peanut Butter Cups are the most popular products rolling off the lines of this legendary central-Pennsylvania icon. All share that trademark Hershey ingredient — milk chocolate. But what about Hershey's peanut-covered caramel bar, PayDay? Surely that stands up against Hershey's Big Three? You must be nuts.
Since we're on the subject of crazy, payday loans fall into that same classification. Referred to as "cash advances," these short-term unsecured loans are designed to be repaid upon receipt of the borrower's next payday. In the profitable event paid-in-full doesn't come to pass, these loans sport annual interest rates as high as 700% in some states.
A study by The Pew Charitable Trusts noted that home renters are one of the groups with the highest odds of using payday loans. According to the Wall Street Journal (WSJ), these lucky renters can now turn to a number of rent-lending startups, such as StayTony, Domuso, Till and Uplift that offer, "loans to renters recently out of college, professionals moving to a new city, and others who want to build credit or could use assistance making rent payments." These outfits offer loans at much lower cost than payday loans, some with rates south of 20%, on par with credit cards.
WSJ also noted, though, "The pitfall to this type of credit is that loans might encourage some young renters to live beyond their means." Ya think? Among the factors that push renters down a slippery slope that ends in credit ruin are decades of stagnating wages and the insane cost of housing. According to the Census Bureau, median rents nationally hit an all-time high of $1,006 a month in the first quarter of 2019. What follows should not come as a surprise.
The National Multi Housing Council's (NMHC) Quarterly Survey of Apartment Market Conditions showed softness in apartment demand continuing into 2019's second quarter. Sales volumes have contracted in 10 of the last 11 quarters, this despite a surge in favorable debt financing conditions in the spring quarter. Cheap money supplied, but cheap money not demanded. Need a primary source to confirm?
Perhaps the Fed's Senior Loan Officer Opinion Survey (SLOOS) will suit. Fact: banks have been tightening lending standards for multifamily residential properties for almost four years – fifteen straight quarters to be exact – through this year's second quarter. Fact: banks have reported persistent weakness in demand for multifamily homes over the last two and a half years, or ten consecutive quarters. It's as if we should be past the tipping point.
Commercial real estate investors would agree.  According to the National Council of Real Estate Investment Fiduciaries (NCREIF), the leading provider of investment performance indices and data for U.S. commercial properties,apartment property prices in 2019's first quarter posted their first year-over-year decline in nine years.
In cycles, demand leads pricing on the upswing and downswing. The persistent weakness in apartment sales volumes suggests a down cycle in apartment pricing in 2019 is long overdue. But that's somewhat beside the point, unless you're long apartments. There's a larger message here for U.S. core inflation that speaks to building risks to the Fed's "pause" mode.
The NMHC and NCREIF data both have presaged past cyclical turning points in OER, or "Owners' Equivalent Rent." At 30%, OER carries the heaviest weight in core CPI. OER is a "trending" indicator, meaning it accelerates and decelerates in a relatively linear fashion during business cycles. Once the slowing commences for this low oscillating feed to core inflation, the inertia in the rental market lingers. Put the risk for weaker rental inflation on the radar over the next 12 months.
Put in Powell-speak, OER weakening will not be "transient" but rather signal that the core inflation the Fed follows so closely will persist below target. And since Powell & Co. have made it abundantly clear that their inflation target is symmetric, an increased probability for rate cuts would quickly manifest in fixed income traders' positioning.
What follows? Lower short-term real rates, which would trigger falling inflation expectations, would combine to produce a wholesale shift lower across in the entire yield curve. Global inflation traders might think we're the ones who are nuts for saying this today, what with the ominous threat of higher tariffs and oil prices being front and center for global fund managers. The thing is, we're okay with that. We're all stocked up on Kisses and smiles.