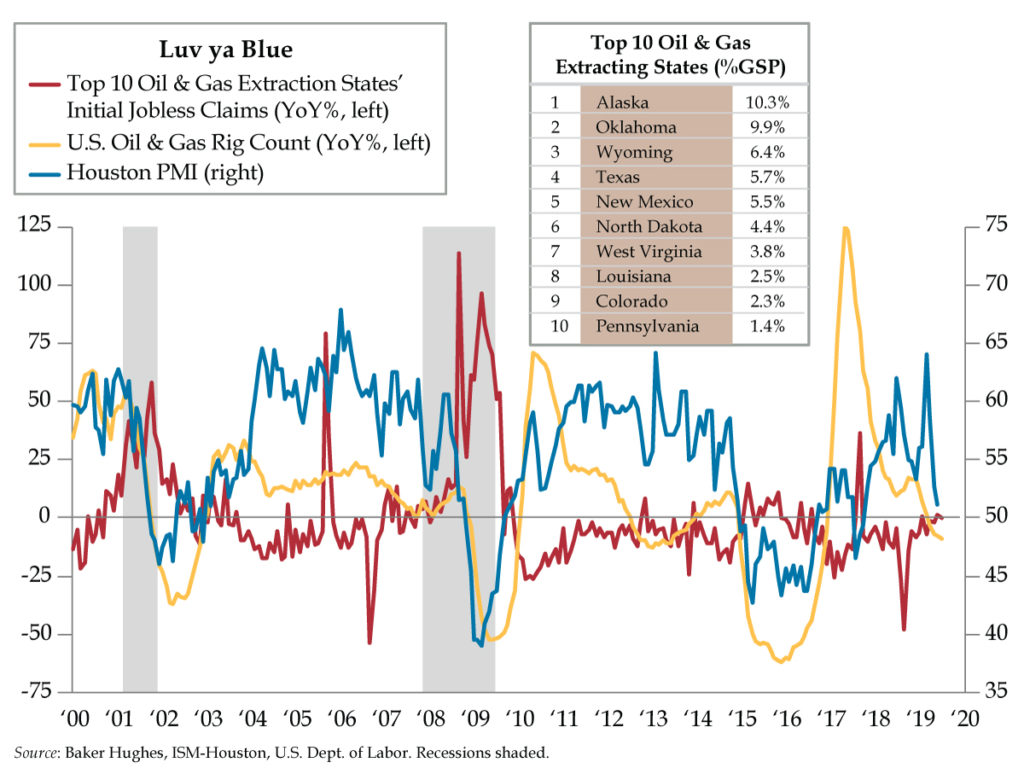 VIPs
Excess supply is keeping a lid on oil as it struggles to break above and stay above $60/barrel; states reliant on energy to drive their economies are experiencing increases in year-over-year initial jobless claims
June's Houston PMI is at the lowest level since December 2016 with both new orders and non-durable goods manufacturing contracting; Houston's July PMI is likely to contract while rig counts should continue to slide
Energy companies are cutting jobs in response to the softening in the oil patch; executives say there appears to be no end to the supply/demand imbalance in the energy market and foresee continued weakness through the end of the year
Ah, but to inspire with the perfect mix of comedy, love and wisdom. Such was the case with 1979 Best Picture nominee Breaking Away.  In 2006, the American Film Institute ranked the film eighth on the List of America's Most Inspiring Movies. The protagonist is a recent high school graduate who is an Italian cycling fanatic. His obsession runs so deep he blasts Italian music and has his mother prepare him specialties from the old country. His blue blood father's derision is a delight: "It's all them 'eenie' foods… zucchini… and linguine… and fettuccine. I want some American food, damn it!" If you haven't seen the movie, we'll refrain from spoiling it for you by explaining the title. Just trust us and enjoy it with a good chianti and some "eenie" food.
Big-screen entertainment is just what you need if you're a big-time investor in the oil patch these days. We would diagnosis what ails you as Not Breaking Even Syndrome. It's been some time since we focused on energy though we're well aware that West Texas Intermediate (WTI) can't seem to break above and stay above $60 a barrel. Come to think of it, we're also savvy to that part about one-quarter of American families forgoing vacations this summer, which obviously effects the demand for liquid gold. And we're quite certain other parts of the global economy are suffering, which also acts as a drag on crude prices.
But it wasn't until we conducted our weekly exercise of breaking out each state's initial jobless claims that the QI light bulb went off. The great state of Wyoming topped the list with claims up 52% year-on-year. Up 35%, North Dakota came in third followed by Oklahoma, where claims are up 31%. Though not nearly as bad, West Virginia and Texas are also up over last year.
Why yes, there is serious stress in the nation's oil-producing states if half the states most reliant on the energy to drive their economies are in dire claims straits. While we take nothing away from the other four, Texas' population of 29 million dwarfs the 7 million of the other four states combined.
That observation proved most serendipitous. We're pleased to reveal we hit a new vein while researching today's Feather. Our discovery: The Houston Purchasing Managers Index (PMI), a sublime gauge of energy company sentiment. June's level is the lowest since December 2016 when WTI was trading at about $53 a barrel, mighty close to today's $56.
Of course, Houston's economy is more than than oil. Sentiment was likely also at such low levels due to the industrial recession that was ending given Houston ranks second in manufacturing GDP in the country. Unlike today, in December 2016, rig count was about to turn positive. As you can see, rig count turned negative for the first time since January 2017 this April and has continued to sink deeper into negative territory.
We suspect that July's Houston PMI print will be south of the 50-line denoting contraction and that rig count will continue to slide as more firms struggle to break even with oil prices stubbornly low. In June, both new orders and non-durable goods manufacturing, a.k.a. oil, contracted.
Are we ignoring the fact that Hurricane Barry made landfall in July and will be a one-off drag on the Houston economy? Yes, but how does that explain Pioneer Natural Resources cutting 500 employees amounting to one-fourth of its headcount? And mammoth Halliburton is slashing 8% of its North American workforce.
Tracy Shuchart works for a family office in Montreal and runs an index and energy fund. She enjoys a cult following on Twitter as @chigrl for her keen insights into the energy industry. In her view, it's a simple matter of supply and demand at work, with the supply side of the equation completely out of whack.
"These guys need to slow production down," said Shuchart. "They are shooting themselves in the foot, at least until they get more pipeline capacity out of the Permian, which should be coming online this fall and next year. In the meantime, U.S. production numbers are spooking the market along with the bottlenecks."
Investors are not taking any chances. The latest victim is Helmerich & Payne, an oilfield services firm whose stock fell to a six-month low in trading Thursday. CEO John Lindsay warned that the worst has yet to come: "The full effect of the industry's emphasis on disciplined capital spending continues to reverberate through the oil field services sector. We are reluctant to predict another bottom and see further softening."
The shale revolution can never be anything but a positive for the U.S. economy. For the moment, as Breaking Away tagline said 40 years ago, it's "Somewhere between growing up and settling down…"