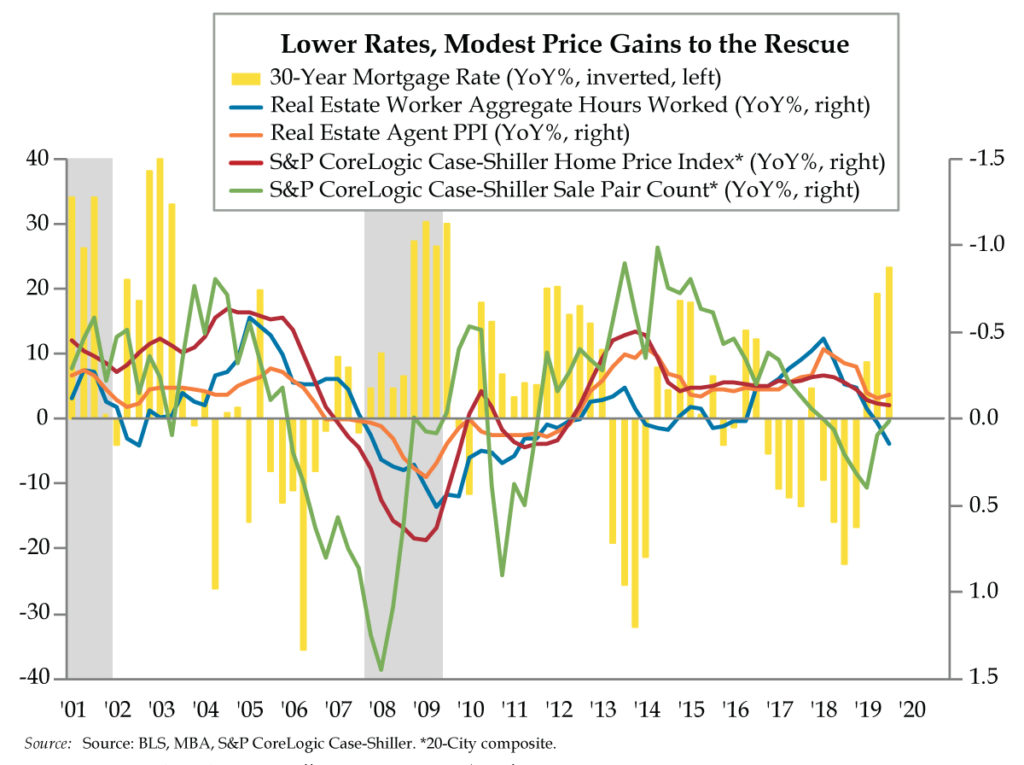 VIPs
While the Conference Board indicated consumers' plans to buy homes in the next six months fell to the second lowest level in three years, households' confidence in near-term job prospects and future income growth suggest support for housing in the near-term
Falling interest rates and the slowest house price appreciation rate in seven years coupled with a pick-up in the repeat sales index in the third quarter provide additional support for residential real estate
An apparent bottoming in Real Estate Agent PPI, a.k.a. commission growth, indicates further stabilization in housing which, at 15%, contributes more than any one single sector to U.S. GDP
Which of these quotes did real estate legend Sam Zell NOT say?
"I think it was Confucius who said that 'money talks and bulls**t walks.'"
"Every day you're not selling an asset that's in your portfolio, you're choosing to buy it."
"Coffee's for closers."
Though all three relate to how ruthless real estate can be, only the third is the stuff of fiction (bonus to first Feather subscriber to email in source). The other two are attributable to Sam Zell. Born in Chicago, he capitalized on his work ethic, street smarts, entrepreneurial spirit and sheer toughness to build a real estate empire worth nearly $5 billion. His humble beginning — managing a 15-unit University of Michigan apartment building in exchange for free rent. So advanced were his skills at attracting tenants, by the time he graduated law school, he was managing 4000 units.
Zell's experience is all that's needed to appreciate the Conference Board's reporting yesterday that consumer plans to buy homes in the next six months fell to the second lowest level in three years. The July to September pullback was the worst stretch of the current economic expansion.
Clearly, would be homebuyers are becoming concerned about the economic outlook and job prospects. And yes, they are blaming the trade war. That said, households also expressed the least amount of pessimism about current employment conditions and future income expectations for the current economic cycle. These last two points together suggest the residential real estate market will remained underpinned in the near term.
It can't hurt that 30-year fixed mortgage rates are 75 to 100 basis points lower than they were a year ago. This should be a huge relief to the realtor community that's seen hours worked cut noticeably over the last twelve months; the 3.7% quarter-to-date decline over the prior year is the weakest in eight years. The sharp fall in rates has bolstered housing affordability, which should improve real estate agents' views of their income prospects.
The diminution of what had been rampant home price gains has favored buyers for the past 13 months. As we discovered yesterday with the latest release from S&P CoreLogic Case-Shiller, in July, home prices gained 2.0% over last year for its 20-City composite home price index (HPI), the slowest pace of growth in seven years. But the best news on falling home prices appears to have been arrested for the time being. To take the most extreme example, home prices in Seattle are down 0.6% over the past 12 months. But that's off the -1.3% decline clocked in June data.
The hope is the combination of falling rates and slowing price appreciation will staunch the housing slowdown.
In past Feathers, we've talked about the "sale pair count," a gauge of demand released with S&P's HPI data that guides future sales. Sale pairs measure the number of observations used in calculating the S&P CoreLogic Case-Shiller Home Price Indexes. A sale pair is comprised of two arms-length transaction prices for a specific home at two distinct points in time. Housing data specialists refer to this as the repeat-sales index
Over time, the sale pair count closely tracks U.S. home sales. As seen in the green line, signs of stabilization in this metric hint of a housing bottom. Thus far in the third quarter, the 20-City sale pair count has fallen -0.3% over the last 12 months. Further traction in August and September would end its six-quarter losing streak that hit -10.7% in this year's first three months, its cycle low
There is one drawback to relying on real estate hours worked, home prices and sale pair counts to time turning points in residential real estate – the data are quite lagged. As of this writing, the July reference month was the most current available. A more up-to-date guide can be mined from the bowels of the Bureau of Labor Statistics' Producer Price Index (PPI) report.
The Real Estate Agent PPI stands as a proxy for the prices charged by realtors, or their commission earned, seen in the orange line.It's also bottomed and begun to turn up so far in the third quarter, another sign of stabilization for housing demand. In the last economic expansion, the real estate PPI began falling before the S&P CoreLogic Case-Shiller HPI and before real estate worker hours worked.
All real estate may be local but, at 15%, that can't take away from housing being the single largest contributor to the U.S. economy. And while the escalation in trade tensions has rightly rattled consumers, the pillars of lower rates and modest price gains can continue supporting this critical sector. The game changer would be recession, a development that would bring supply out of the shadows cutting off what Zell refers to as "the petroleum of the real estate industry" – capital.