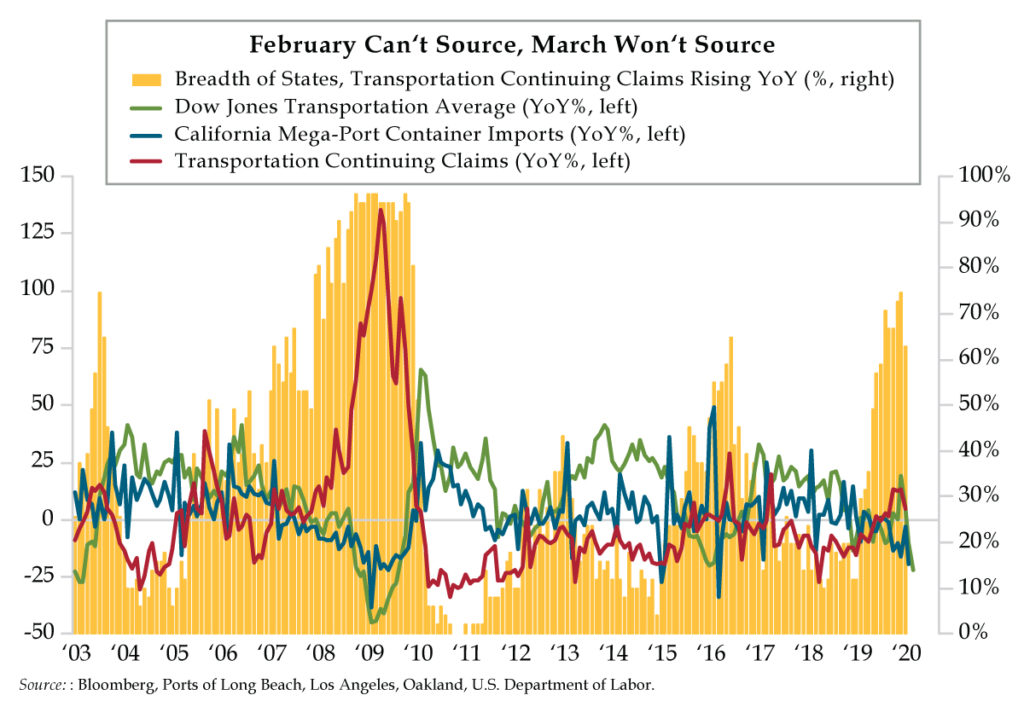 VIPs
In February, the three California mega-ports experienced a drop of imports of 19.3% YoY; Transportation continuing claims are highly correlated to falling California port traffic suggesting Southern California will be hit hard as one in nine jobs relates to port activities
While China's arrested shipment volumes catalyzed the initial shock, the worldwide spread of COVID-19 is acting as a reinforcement; the reduction in volumes will hit truckers especially hard as most are contractors who are ineligible for unemployment benefits
The Dow Transportation Average has led the broader stock market's decline; if volumes in shipped goods are arrested, inventories will collapse setting up a key prerequisite to a first-quarter recession onset with the unknown being when in the GDP release order it's reported
There aren't many times in human history when there's a call for "all hands on deck." Of naval origin, the phrase is a call for all members of a ship's crew to convene on the deck, usually in a time of crisis. By extension, it's also a metaphorical plea for everyone available to help tackle a problem or a call for those people to help. The hope is that the war on Coronavirus will mobilize resources from public health authorities and fiscal policymakers to central bankers. The prayer is that we'll witness a cooperation and coordination effort with no precedent.
Extraordinary times call for extraordinary measures. Yesterday, at an emergency meeting, the Bank of England exhibited the kind of leadership that should set the standard for policy response. The Bank's three policy committees announced "a comprehensive and timely package of measures to help U.K. businesses and households bridge across the economic disruption that is likely to be associated with Covid-19." Specific actions taken include:
A reduction in the Bank Rate by 50 basis points to 0.25%.
The introduction of a new Term Funding facility with additional incentives for Small and Medium-sized Enterprises (TFSME), financed by the issuance of central bank reserves.
Reducing the countercyclical capital buffer rate to 0% of banks' exposures to U.K. borrowers with immediate effect for a period of at least 12 months.
Carney showed us how it's done. It's time for the Federal Reserve to follow suit in whatever way it can at (or before) next week's Federal Open Market Committee (FOMC) meeting.
Calls for all hands on deck at California's three mega-ports of Los Angeles, Long Beach and Oakland have fallen on deaf ears. As illustrated in today's graph, combined imports plunged 19.3% year-over-year in February as China was effectively shut in, arresting cross-Pacific supply crossings. Worse, however, is that February's performance extended the trade war downturn in imports that stretches back to the summer of 2019. The last time California's inbound containers imploded as they are now was the 2007-09 recession.
In a recent interview with the Los Angeles Times, Eugene Seroka, executive director of the Port of Los Angeles shared his thoughts on the cutback in port activity by pointing out that one in nine Southern California jobs are tied to the ports, including people who work on the docks, drive trucks and move boxes in warehouses. "That's a million jobs," said Seroka. "Less cargo means fewer jobs."
That brings us to the two other series illustrated above — transportation industry continuing claims, as in those collecting jobless benefits, and the breadth of states with a rising trend in continuing claims. Transportation continuing claims are like a mirror image to the path of imports into California ports. The breadth has been expanding (bad) due to the U.S./China trade war. The Coronavirus is upping the ante.
The crisis is most severe for the truckers who ferry goods from ships to warehouses and rail yards. About 80% of them are independent contractors; they own their trucks and get paid per load. No cargo means no paycheck. For independent contractors, the income shock is especially distressing because they're not eligible for unemployment insurance. This is a prime example of how U.S. small businesses will need targeted relief from lost revenue.
To expand on the title of today's chart, we see two phases. Call February Phase One that revealed forced supply cuts. The U.S. did not import because China did not ship out. The inability to source products from China was a supply shock beyond their control. Enter the global spread of Coronavirus. That brings is to March's Phase Two when U.S. imports will be curtailed because of crashing U.S. demand. This will force more supply cuts yet.
The vicious cycle of increasingly depleted cargo volumes means less and less work for longshoremen, truckers and warehouse workers. The longer the Coronavirus shock holds, the greater the chances for labor dislocation and outright layoffs, boosting two of the series depicted in today's graph in a bad way.
The Dow Jones Transportation Average will signal the economic evolution of the underlying shipping and sourcing environment. Should California imports drop further from here, it would signify an imminent collapse in inventories — an essential ingredient for recession. And yes, we are talking about the risk for a negative sign in front of first-quarter GDP, if not at April's first print, potentially when the second report is released in May or the final in June.
All hands on deck will be needed as economic time stops while financial time – obligations – march on. Piled on fundamental weakness from the ports and the unemployment picture from the transport industry should drive the Transports index to new lows in the coming weeks, even off of yesterday's bloody close.
---
With sincere apologies, our depiction of bear markets in Wednesday's Feather was not 100% accurate. We were only judging the performance year to date which caused us to omit that the Russell 2000 had also fallen into a bear market as of Tuesday's close. In light of Wednesday's violent trading, we thought you might also like to see where these same indices closed versus recent highs as we tip-toe into yet another post-COVID trading day:
Dow Jones Transports -28.1%
KBW Bank Index -36.5%
NYSE Arca Oil Index -48.1%
Russell 2000 -25.9%