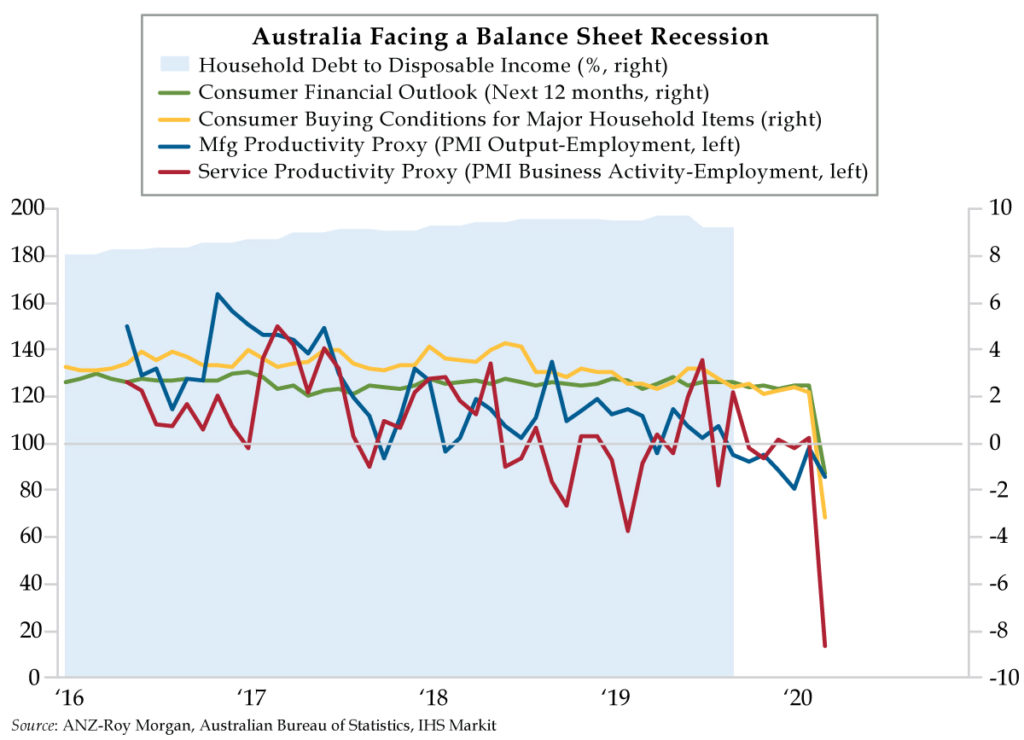 VIPs
Australia's exposure to China's slow down before the coronavirus had already slowed growth there; Australia's dependence on resources and China coupled with its real estate bubbles will place a significant strain on the economy
Australia's March data has collapsed with IHS Markit's Services PMIs falling to a record low 38.9 while manufacturing output PMI declined to 46.7, a 2016 index-inception low; employment data reveal slippage in services far exceeding manufacturing
While the Reserve Bank of Australia has taken rates to record lows and instituted its version of "Yield Curve Control," the economy's exposure to a potential depression-like deflationary shock to global commodities will continue to weigh on the Aussie dollar
Ellen DeGeneres is best known for her daytime television show that's run for 17 seasons. It combines comedy, celebrity and musical guests with human-interest stories, audience participation and, what drives the audience to insane hysterics — giveaways! Tickets are hard to get right now since production of the show has been suspended until March 30 to protect the health of the audience and staff. If you're missing your daily fill, try streaming Disney/Pixar's Finding Dory where Ellen reprised her role as the lovable Pacific blue tang fish with the signature line, "Just keep swimming."
We were first introduced to Dory when she just kept swimming to Australia in Finding Nemo. This got us thinking of another group that just keeps swimming…in household debt. In 2019, Australia's household debt to disposable personal income ratio hit 200%. Compared to the Aussies, American households look like relative "misers," with a corresponding debt to income ratio of just under 100% (though that should change dramatically in the coming months as incomes are shellacked).
To be fair, there are a handful of other developed market economies with similarly high household debt burdens. Canada and the Nordics – Norway, Sweden and Denmark – come to mind. Strong gains in home prices have required ever larger levels of household debt over time.
Untenable household debts introduce two-sided vulnerabilities. In an upside scenario, interest rate shocks can make servicing heavy debt loads overly onerous. Recessions, conversely, increase the likelihood of delinquencies associated with higher unemployment.
That brings us back to Australia where fears of a downturn tied to China's economy slowing to a three-decade low were rising before the Coronavirus outbreak. While the U.S./China trade war played out on the global stage, Australia's froth and over-developed residential real estate and commercial real estate markets were increasing drags on the economy. Capex also turned down in 2019 and consumers slowed their pace of spending. 
Weekly Quill subscribers saw us preview what was to come in "Down Under Water" last September, especially the aforementioned household vulnerability to a downturn:
"At nearly $2.5 trillion, household debt makes out to almost $100,000 for every Australian. Looked at from the perspective of the average family, debt amounts to twice what comes in the door in the form of wages and other forms of income. It wasn't always like this, which is the nature of the dark underbelly of housing bubbles."
Six months on, the Coronavirus is causing unprecedented contractions in both scale and speed across global economies. Australia is not immune despite avoiding the magnitude of crisis unfolding elsewhere. As of March 25, Australia's Department of Health confirmed 2,423 cases of COVID-19, compared to thirty to forty times as many in the U.S. and Italy.
Nevertheless, on March 23, the Australian government announced tighter restrictions on social gatherings, avoidance of non-essential travel and closures of bars, restaurants, hotels, gyms and sporting venues, movie theaters, entertainment venues, casinos and night clubs. Australian Prime Minister Scott Morrison warned that "Australians should expect these measures to be in place for at least six months."
As if on cue, IHS Markit's March flash Australian purchasing managers' index (PMIs) for services collapsed to a record low 38.9 in March. The manufacturing output PMI also fell to 46.7, a low since the index's 2016 inception. IHS echoed its take on countless service sectors slammed by sheltering-in but added that while manufacturing was faring better, "the leading indicators are flashing warning signs. The deterioration in supplier delivery times is accelerating, highlighting the disruption to supply chains. And the lower Aussie dollar is pushing input prices up at a rapid rate".
Juxtaposing the two top-line metrics against their respective employment indices in today's chart revealed contracting service productivity far exceeding that in manufacturing. These output-employment imbalances are bearish signs for future income prospects. Labor dislocations are likely and the unfortunate consequence.
The Coronavirus shock has also created cliff effects in the weekly ANZ-Roy Morgan consumer survey for households' future financial outlook and current buying conditions. Given the sudden and sharp declines in these soft-data consumer gauges, the follow through from consumer spending is likely to be sudden and sharp. Though no doubt prudent, six months is a lengthy span for the coronavirus countermeasures to be place.
To counter the rising risk of recession, the Reserve Bank of Australia has slashed the cash rate to a record low 0.25% and instituted its version of "Yield Curve Control", targeting 3-year yields at 0.25%. The danger is that Australia's resource-dependent economy sustains a deeper blow given the virus' potential to inflict a depression-like deflationary shock on global commodities. That's bearish for the beaten down Aussie dollar. The hope is that nearly 30 years into an expansion, Australia's economy will just keep swimming. The reality is the global stalwart will finally succumb to contraction.