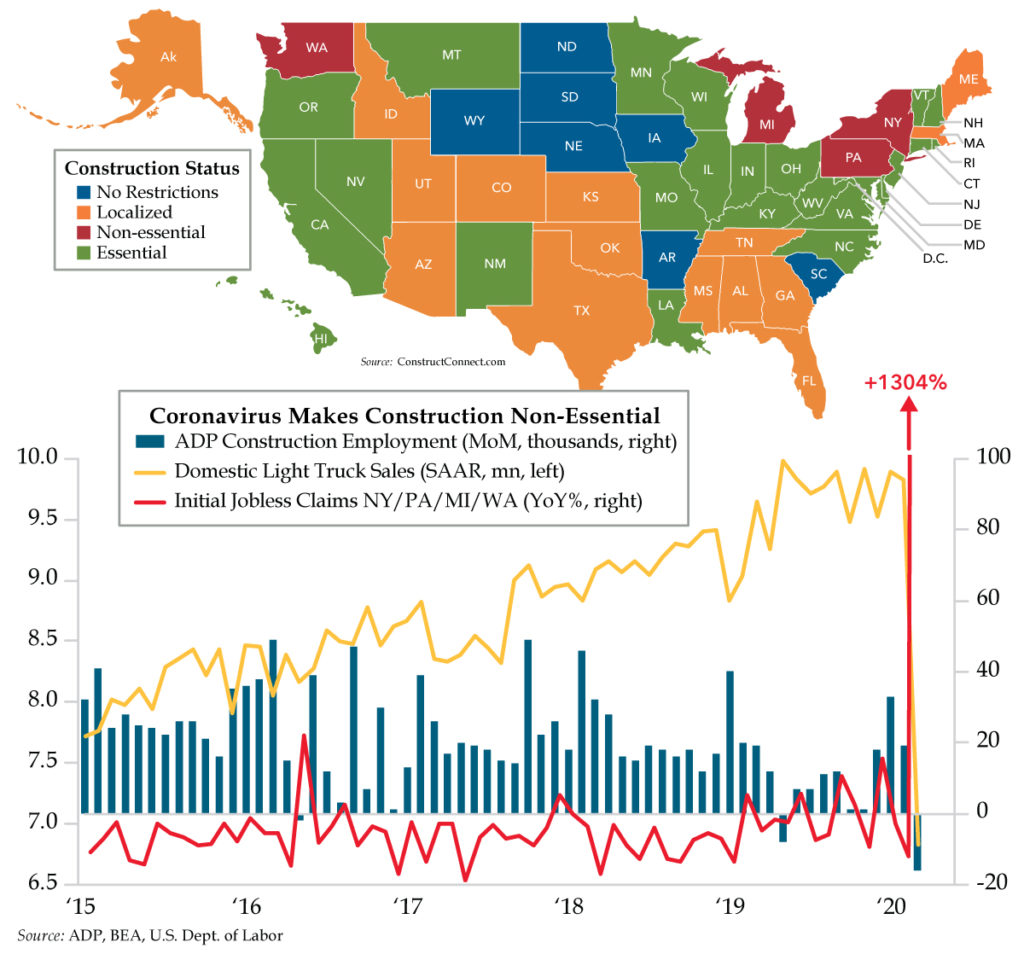 VIPs        
As initial jobless claims continue to surprise on the upside, unemployment benefit searches have accelerated further indicating the peak in claims is to come; backing this, a number of the most populous states' affected labor forces lag the national average
While construction job creation lagged coming out of the GFC, for a solid decade, the sector has contributed one in every 10 new private sector jobs; the four states codifying construction as "non-essential" account for 14% of construction job losses backing the weakness in ADP
At an annualized rate, February home improvement spending sank by $15B accounting for 85% of the total construction spending fall; this occurred absent weather-related issues suggesting stock-market darling home improvement retailers will get hit with a storm front
Xenia, Ohio was not the place to be 46 years ago today. History was almost made as a tornado sustaining maximum winds of 300 miles per hour (mph) struck the town leveling most of it. Some 36 people died, and another 1,150 people were injured leaving little doubt in President Richard Nixon's observation when he visited the following week: "It's the worst disaster I've ever seen." And yet, the worst twister in the modern era was 19 mph shy of qualifying as an F6 on the Fujita Scale. In what meteorologists describe as the "Inconceivable Tornado," the depth of destruction of a 319-379 mph monster might only be discernible in ground swirl patterns, unidentifiable to engineering studies.
The U.S. economy has no problem finding evidence that an F6 has just hit it. Some 9.95 million initial jobless claims have been filed in the past two weeks annihilating any historical precedent. Less conceivable yet is that Google Trends searches for "unemployment benefits" have risen in successively larger waves over the last three weeks. The current week's search interest eclipsed that of the last two weeks. Add to this the fact that of the four most populous states, only California appears to be keeping up with applicant volume. New York, Texas and Florida still appear to be playing a game of catch-up. It's not inconceivable that jobless claims in the week ended April 4th come in north of 6.6 million.
We appreciate that none of this makes for easy reading. And there is no way of making light of it. But there are still economic insights to be gleaned as we all struggle through the current crisis. Throughout the last cycle (we must acknowledge that it has ended as today arrests a record 120-month streak of expanding nonfarm payrolls (NFP) in America), construction was a stalwart. Given the magnitude of the setback in residential real estate, construction lagged the exit of recession with job growth in the sector kicking in a year after NFP bottomed in February 2010. But since then, the sector accounted for one out of every 10 new private sector jobs through February 2020.
With that in mind, we were taken off guard with Wednesday's release of construction spending for February. Yet another month of irrelevant data…blah, blah, blah. And yet, spending on home improvements declined by a material $15 billion at an annualized rate accounting for 85% of the drop in total construction spending.
Forgive us for nodding to the obvious, but the bulk of home improvement projects are weather-agnostic. That's a lot of subcontractors with too much time on their hands which goes a long way to explaining the veritable crash in sales of the lightweight pickup trucks they use to get back and forth from their jobs…which began to dry up pre-COVID. It would appear that as was the case with construction globally, the U.S. slowdown set in just prior to the coronavirus outbreak as the air came out of the global reflation trade.
If you'd like corroboration, consider the ADP most disregarded as stale upon its release, which was also Wednesday morning. Outdated or not, the construction sector posted its deepest decline since ADP began reporting it separately. And this was no weather report as the sector has just come off its most flattering winter in U.S. meteorological history.
With that as a backdrop, the coronavirus did hit. And with it, the effective closure of four states' construction sectors deemed as "non-essential." A quick glance of the map above puts into context the import of shutting down Seattle, which has long reigned supreme as the crane capital of America. And any New Yorker can tell you that construction has been ever-present in recent years as the City embarked upon a monumental building spree. Taken together, the four "red" states above comprise 1.1 million of the 7.5 million construction jobs in the 50 states and DC, or a 14% share.
These last few weeks, the Department of Labor has included a special "COVID-19 Impact" section at the top of its weekly jobless claims report. Wouldn't you know that aside from the broad and expected dislocations in the service sector, one heavily labor-intensive industry made its debut in this week's report – Construction.
We'd like to assure you that it's just the lockdown effect at work. But the broad, national-in-scope economic contraction will begin to exert a greater force than any government edict that labels construction "non-essential." With one in 16 Americans out of work and ample evidence that we could be headed for one in 10 — which is inconceivable — there will simply be no funding for construction projects in any city, in any state, in this nation we call home. The satellites have picked up an incoming F6.