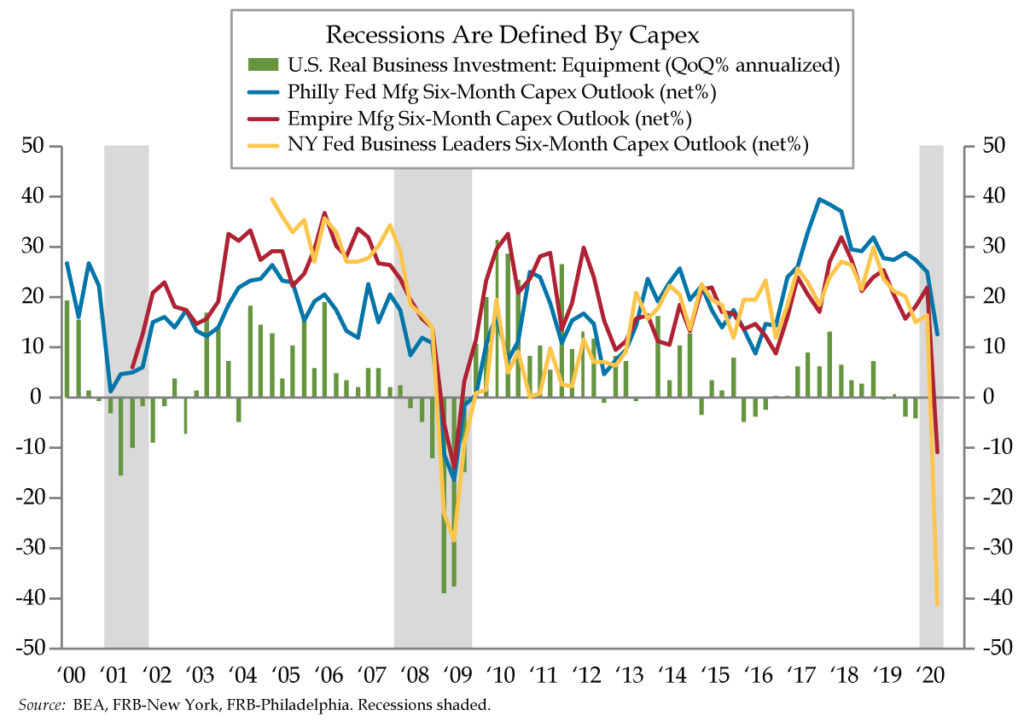 VIPs      
U.S. Real Business Investment is poised to plumb deeper than its industrial recession and GFC lows; in post-war recessions, this has fallen 75% of the time for an average 3.5 quarters, a span that will be surpassed in this year's second quarter which will mark four quarters
Future capex on equipment is falling fast in the Northeast where COVID-19 has been the most severe and suggests job losses are at risk of becoming permanent; the NY Fed Business Leaders Survey, a tristate service sector reading, shows future capex falling by a record level
Top-line growth in the industrials sector is acutely vulnerable to planned pullbacks in equipment spending; the Philadelphia Fed survey also revealed slashed future spending plans on technology raising a red flag for the sector most favored by stock market investors
We are a nation starved of levity and sports. With that in mind, QI went on a small screen feel-good mission this weekend. It started Friday with 7:43 magical YouTube minutes — the full clip of The Glenn Miller Band with Tex Beneke belting out "I've Got a Gal in Kalamazoo." Taken from 1942's Orchestra Wives, the featured dance routine by the Nicholas Brothers is arguably the best to ever hit the big screen. Sticking with the upper Midwest, Saturday brought 2004's Miracle with Kurt Russell's flawless performance as Herb Brooks, who coached 20 young amateur hockey players to pull off 1980's Miracle on Ice. Re-living the impossible victory of Team U.S.A. over the Soviets in the heat of the cold war is worth every one of the film's 142 minutes.
American businesses are also on the hunt for good news and keeping their chins up. This optimism was apparent in both of last week's April releases of the Empire State and Philadelphia Fed Manufacturing Surveys. In huge contrast to the collapse to -78.2 in current conditions, the Empire State's index for future business conditions ticked up six points to 7.0 remaining in expansion territory. Things are even cheerier in Philly with 53% of firms saying they expect increased activity over the next six months.
We decided to test whether firms were putting their money where their mouths were, namely by spending it to prepare for the sunny future. What we found was less than encouraging and is illustrated in today's chart. What's key to appreciate is that it started well before the Coronavirus.
Though ancient history by now, the industrial recession of 2015-2016 saw Real Business Investment (green bars) in the U.S. decline at a -3.7% quarterly rate in the three quarters through mid-2016. Through the end of 2018, the trend reversed with growth in this key metric averaging 5.5%. And then came the trade war. Last year, business investment averaged -1.8% a quarter. Call that the pre-COVID-19 starting point.
The importance of punk investment headed into this crisis cannot be overstated given its implications for the labor market. Capital expenditures (capex) on equipment define recessions. Downplay the role cyclicals play in the economy all you like, but quarter-over-quarter declines in equipment capex occurred in 38 of the 51 quarters of postwar U.S. recessions, or 75% of the time. The duration of those capex contractions averaged 3.5 quarters.
The rubber meets the road when you compare capex to employment. The mutual relationship, i.e. correlation, between capex and permanent (0.63) vs. temporary (0.41) job losses is the tell. Because real business investment ticked up 0.8% in 2019's second quarter, equipment capex has only been in contraction for the two quarters though the last three months of 2019, the most up-to-date data on hand.
But we can promise you we'll see a third quarter in this year's first three months based on what we're seeing in the Northeast. While future capex held steady in April in Philadelphia (blue line), it followed a decline of nearly 18 points to 12.0 in March, its lowest reading since September 2016. At least the Philly print is still positive. The Empire State future capex (red line) fell nearly 30 points in April to -11.0. In light of the runaway outperformance in technology stocks, we would highlight that future technology spending (not pictured) fell by a similar magnitude.
We also have a prism into tristate service firms via the New York Fed's Business Leaders Survey which covers southern Connecticut, New York and northern New Jersey. In short, there's no evidence of current or future optimism. The headline index fell to -76.5, nearly twice the Great Recession low. But this is what we first thought to be a typo: "The business climate index tumbled sixty-five points to -94.3, indicating that firms almost universally regarded the business climate as worse than normal." Wages also fell for the first time in the survey's history.
As for future capex (yellow line), in data back to 2004, this series has only contracted once, in the three quarters through the summer of 2009. The lowest reading back then was -28.5. That helps contextualize April's -41.3 print, a 47.3-point swing into the red.
The best news is that it looks as if New York and New Jersey have seen COVID-19 case counts peak. As we look to hear from the rest of the Fed districts in the coming days, we echo QI Chicago friend Jim Bianco who warned Saturday morning that the new case count in the other 48 states hit a fresh peak Friday. The best way to extend the economic carnage is re-opening prematurely, ultimately sentencing more American workers to stay at home, not on orders, but because they have no jobs to which to return.