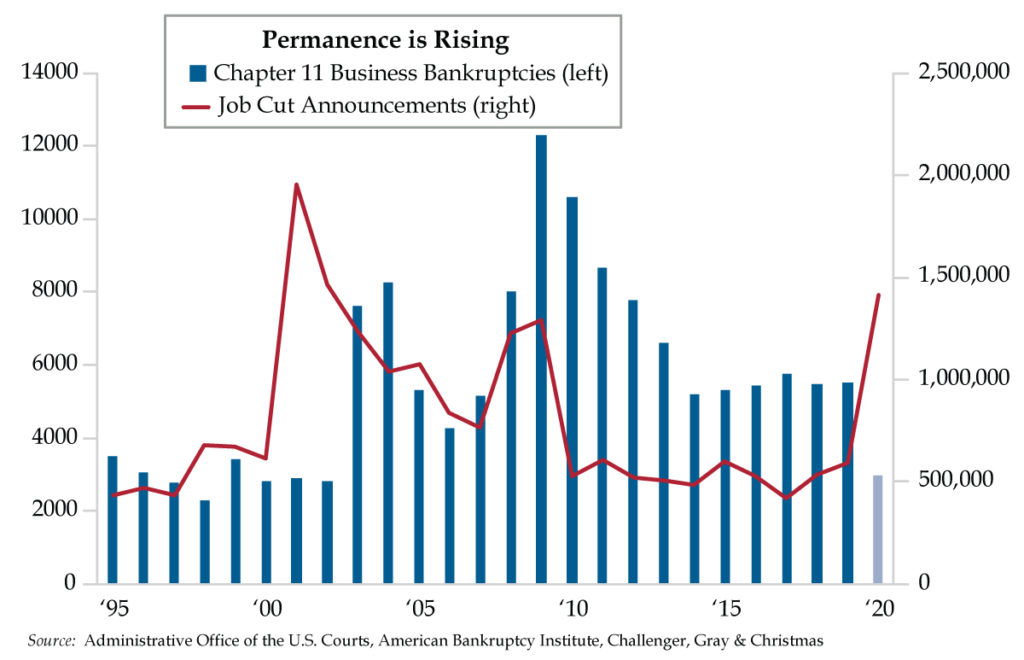 VIPs
As states reopen, surges in pent-up demand have been a catalyst for increasing home and auto sales; reflecting months of homebound online shopping, furniture sales have risen by an average 35% in the three most reopened states compared to a 21% increase nationwide
Bankruptcies have been postponed for many businesses as forbearance measures and bloated court dockets delay the inevitable for small businesses; expect bankruptcies to accelerate exacerbated by a continued build in permanent layoffs as companies struggle to survive
Even as the economy reopens, layoffs are rising as companies cut costs to offset falling demand; after a one-week reprieve, continuing jobless claims rose anew flagging millions of pent-up layoffs as service and factory firms downsize and consumer credit tightens
"All very well for the bulge group, you may say. It will continue to dominate society as it passes through the decades like a pig through a python.
~  Russell Baker, New York Times Magazine, April 21, 1974
In economics and demographics, the "pig in the python" has traditionally referred to the baby boomer generation as was the case back in 1974. The technical definition is "a sharp statistical increase represented as a bulge in an otherwise level pattern." The metaphor, of course, refers to the digestive system of a python after they've swallowed large animals – the bulge of the victim can be seen slowly traveling from the front to the end of the python.
But there's a new pig on the block, a fresh surge that, as was the case with the economy shutting down, will wreak havoc with data for some time. It's called "reopening" and feels a lot better than the shutdown…at the moment. The pig has just eaten the python and it's delish.
Home and car sales, the top two telltale leading indicators of consumption that drive the U.S. economy into and out of recession, are surging. Expect that to continue as the rest of the U.S. economy reopens reflecting the follow-through on purchase intentions that had been frozen in time. Think families that had plans in motion to relocate by the start of the school year, drivers who had an eye on a new car just in time for their local dealership to temporarily shutter and remodeling plans put on ice. Now add to this, dynamic endless online hours to precisely plot your planned purchase right down to the color of the car's trim and a short list of homes you've virtually toured. Finally, dabble on an unprecedented fear factor for millions of sheltering-in-place city dwellers whose first move, once they could move, would be to move the hell out of said city. That's your pig – pent-up demand the likes of which this economy has never seen.
To cite one case in point, Bank of America's latest reopening real-time tracking survey data show that furniture spending is up 21% over last year nationwide. That compares to an average of 35% in Arizona, Florida and Georgia – the three states they identify as the "Most Opened." This compares to an average -.33% in overall spending across these three vs. -9% overall nationwide.
As we contemplate what's to come after today's May payrolls, visualize the pig moving through the python. At some point, it will be time for the next meal – the follow-through to reopening.
That's what gets us to the permanent/temporary debate, one we've tried to settle by using only permanent data that is incontrovertibly, well, not temporary — not initial claims, not emergency stimulus measures, not furloughs. After verifying with Challenger, Gray and Christmas that they only report permanent layoffs (red line), we can say with near certainty that the 1,446,823 jobs announced through May will take out 2001's prior full year record of 1,956,876 cuts.
In fact, expect that to be taken out by July and keep going based on the blue bars (bankruptcies) and a second wave of higher-income jobs Bloomberg estimates to be six million, casualties of the demand destruction COVID-19 has left in its wake.
For the moment, business bankruptcies present a conundrum. They peaked at 10,586 in 2009 and "only" amount to 2,994 through May. But bankruptcy attorneys point to forbearance measures that have postponed Chapter 11 filings for smaller companies as well as (reopened) court systems struggling to keep up with bulging dockets. But the pent-up supply of insolvencies is without a doubt in the pipeline. At the highest level, a half trillion in distressed debt leaves little doubt we'll see bankruptcy filings continue to swell.
As for the layoffs to come, what the heck does six million layoffs to come mean, focused as they're expected to be in professional services, finance and real estate? At the highest level, after one whole week's reprieve, continuing jobless claims resumed their upward march from 20.8 million last week to 21.5 million. And what's the point of all of these numbers without putting faces on them? As a follow up to Wednesday's one-day parade of layoff headlines, we give you Thursday's.
Homebuilder Hovnanian is "streamlining our organizational structure and reducing our workforce," and expects "these steps to result in approximately $20 million in annual overhead savings." By the way, the contract cancellation rate in its fiscal second quarter ended April 30 was 23% vs. 19% in the prior three months. Expect increasingly stringent mortgage lending standards to play a growing role after the initial pent-up housing demand is satisfied.
We also heard from former unicorn Stitch Fix, the San Francisco-based online personal styling services now valued at less than $2 billion – it will make redundant 20% of its workforce, or 1,400 employees. Carpenter Technology, the Philadelphia-based materials company will also reduce by 20% its headcount that last numbered 5,100. Texas Steel Conversion of Houston will reduce by 491 its fracking workers. New York investment bank Perella Weinberg Partners will lay off 7% of its employees tied to slowdown in deal-making. Michigan's La-Z-Boy will lay off 10% of its workforce, or 850 employees, and close an upholstery factory in Mississippi. And finally, Southlake, Texas' Sabre, the software and technology company for global travel industry will lay off 800 in addition to the 400 in committed voluntary early retirements.
As anyone with a pulse recognizes, stock valuations are keying off a perfect reopening with full follow-through. The risk is that after the reopening pig is digested, the python will be hungry for a long time to come.