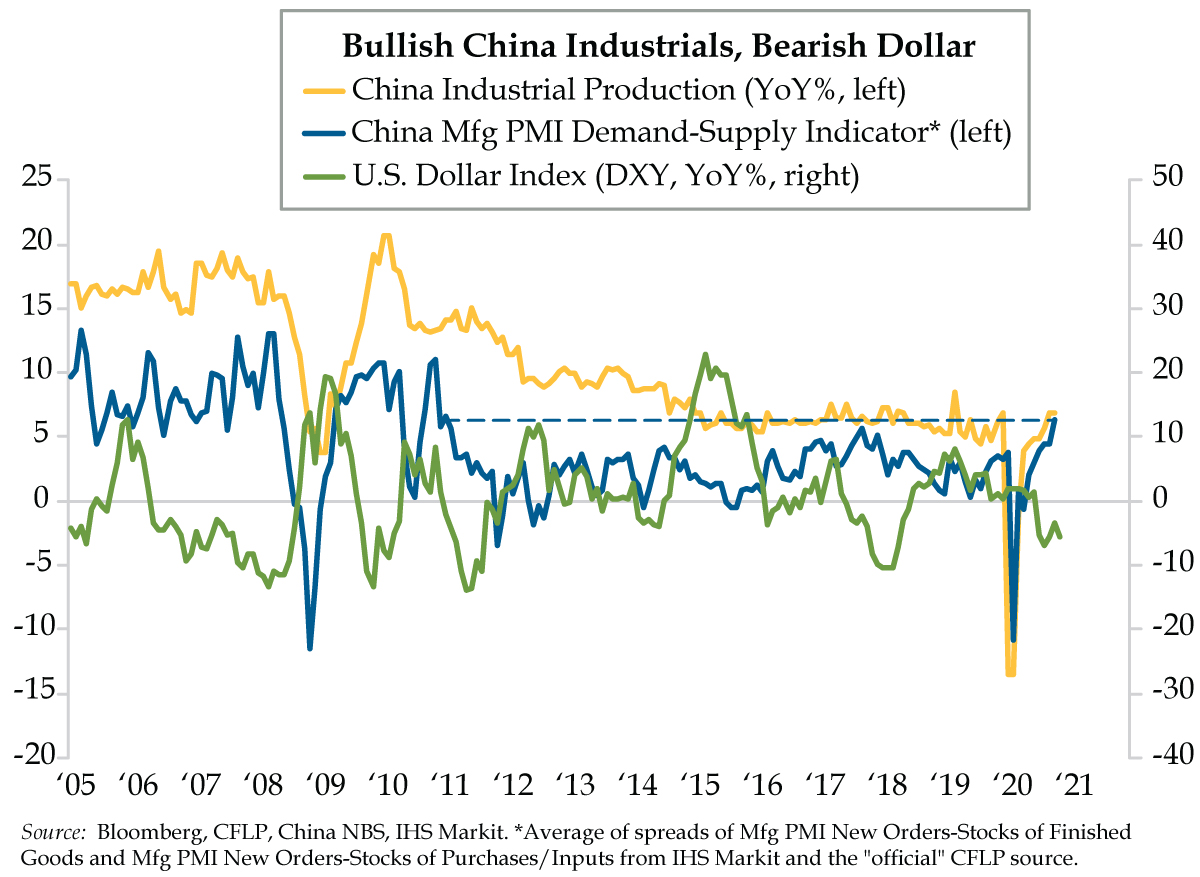 VIPs
Optimism for Chinese industrials surged to start Q4, with QI's Demand-Supply Indicator hitting 6.3, its highest level since January 2011's 6.6 print; industrial production in October also matched December 2019's 6.9% YoY pre-pandemic rate, portending further expansion

From its May 27 low of around 7.2, the yuan has appreciated by more than 8% in recent weeks to near 6.6 per USD; imports of factory inputs will increase on the back of a stronger Chinese currency, translating to rising exports and strengthening global growth prospects

Chinese retail sales rose 4.3% YoY in October, but remain down over the first 10 months and will subtract from 2020 GDP; until vaccine distribution is underway, China's supply-side virus response ensures global industrials will keep outperforming consumer services
Work from home has brought with it the temptation of the kitchen pantry. Sinful snacks are in such proximity, our will power is sorely tested. One retro tagline – today's title – will hopefully sway you to reach for a healthier alternative. In 1947, inspired by the V8 engine, the most powerful at the time, Chicago's Frank Constable devised a formula that launched V8 Vegetable Cocktail Juice. One year later, Constable was bought out by the Campbell Soup Company that's maintained continuous production of the beverage since. Though mostly water and tomato concentrate, V8 is defined by reconstitutes of eight vegetables – beets, celery, carrots, lettuce, parsley, watercress, spinach, and tomato. Next time a craving hits, grab a V8 instead and put some balance back in your diet.
But, if you're reaching beyond the pantry for that balance, remember there's precious little to be found in recessions with their propensity to provide great test cases for imbalances. Those of the garden variety are brought on by demand shocks that morph into supply shocks until demand sustainably rebounds and supply recovers in train. The COVID recession was unique in that both a demand and supply shock hit at the outset triggering China's shutdown, which slashed global demand and supply. The rest of the world followed as so many dominoes generating massive economic dislocations in the second quarter that have reversed course in 2020's second half.
We track short-run demand-supply imbalances with PMIs' New Orders-to-Inventories spreads, reliable guides for the near-term path of industrial output. Because there's more than one inventory metric in PMIs, notably IHS Markit's, we also can tap stocks of purchases, or inputs, and that of finished goods, or output not yet shipped. The two biggest economies – the U.S. and China – also provide alternative lenses into their factory sectors – respectively, the renowned ISM and China's Federation of Logistics & Purchasing (CFLP).
In the spirit of QI innovation, we've derived a proprietary Chinese Manufacturing PMI Demand-Supply Indicator (blue line), a fusion of four rudimentary elements via Markit and the CFLP – two New Orders-to-Stocks of Purchases/Inputs spreads, and two New Orders-to-Stocks of Finished Goods spreads. Markit covers private industries and the CFLP is weighted toward state-owned enterprises. Including all four spreads into one composite dispenses with bias favoring any one indicator.
The start of the fourth quarter saw a surge in optimism for China industrials. At 6.3, the Demand-Supply Indicator broke to the highest since January 2011's 6.6 reading. Hard data confirm. October China industrial production advanced at a 6.9% year-over-year rate (yellow line), maintaining September's pace, which matched December's pre-pandemic print. The excess demand signal from our Demand-Supply Indicator portends further improvement of China's industrial expansion.
An appreciating yuan supports the bullish narrative; in recent weeks, it's strengthened by more than 8% from the May 27 recent low of around 7.2 to near 6.6 to the U.S. dollar. A stronger Chinese currency means the Middle Kingdom can import more factory inputs which in turn rebalances supply with demand. More imports into China translate into rising Chinese exports to its key trading partners. The appreciating yuan should continue to reflect strengthening global growth prospects.
It follows that the greenback weakens. The annual trend in the U.S. Dollar Index (ticker DXY, green line) has an inverse relationship with QI's Demand-Supply Indicator. DXY is heavily weighted toward the euro and yen but excludes the yuan. Due to the interconnectedness of China's industrial trade with Japan and with the Euro Area, especially that of Germany, their currencies are viewed as proxies. For corroboration, and with a hat tip to QI friend Peter Boockvar, Bloomberg JP Morgan's Asia Dollar Index has hit the highest level since June 2018.
Because China better controlled the virus, the openness of the industrial supply chain won't be impeded, fresh demand shocks in other areas of the global economy, notwithstanding. Until vaccine distribution is underway, global industrials should continue to outperform their consumer services counterparts. In the meantime, China's excess demand will benefit nations that feed its appetite for exports, a continued trend that portends poorly for the dollar and favorably for commodities.
The trouble with airtight narratives is that they're too neat. That prompted us to play devil's advocate, with an assist from QI amigo Leland Miller, founder of the China Beige Book (CBB). According to his latest check, the respective demand for, and rejection of, loans from Commodities and Manufacturing players soared and crashed in the third quarter, mirror images of the second quarter. After the full thrust of Chinese stimulus aimed at infrastructure was apparent, lenders relaxed and opened their coffers, emboldened by officials' direct backstop.
Conversely, of the remaining five sectors, including Real Estate and Construction, Retail and Services saw the highest loan rejection rates. The lenders, who know their surveyed responses to the CBB are anonymous, recognize that China's growth miracle is predicated on official spending. To that end, October's retail sales were 4.3% higher than the year prior, but much less robust vis-à-vis industrial production's 6.9% rate.
As China expert Michael Pettis points out, "October contributed to a worsening of the domestic consumption, not an improvement." With retail sales down over 2020's first 10 months, he expects consumption's contribution to 2020 full year GDP to decline by roughly two percentage points. "We should recognize how lopsided and partial China's recovery has been," he wrote, "and how this was largely the consequence of Beijing's supply-side policy response to what was mostly a demand-side problem, unlike the responses in other countries." Maybe China should have had a V8.