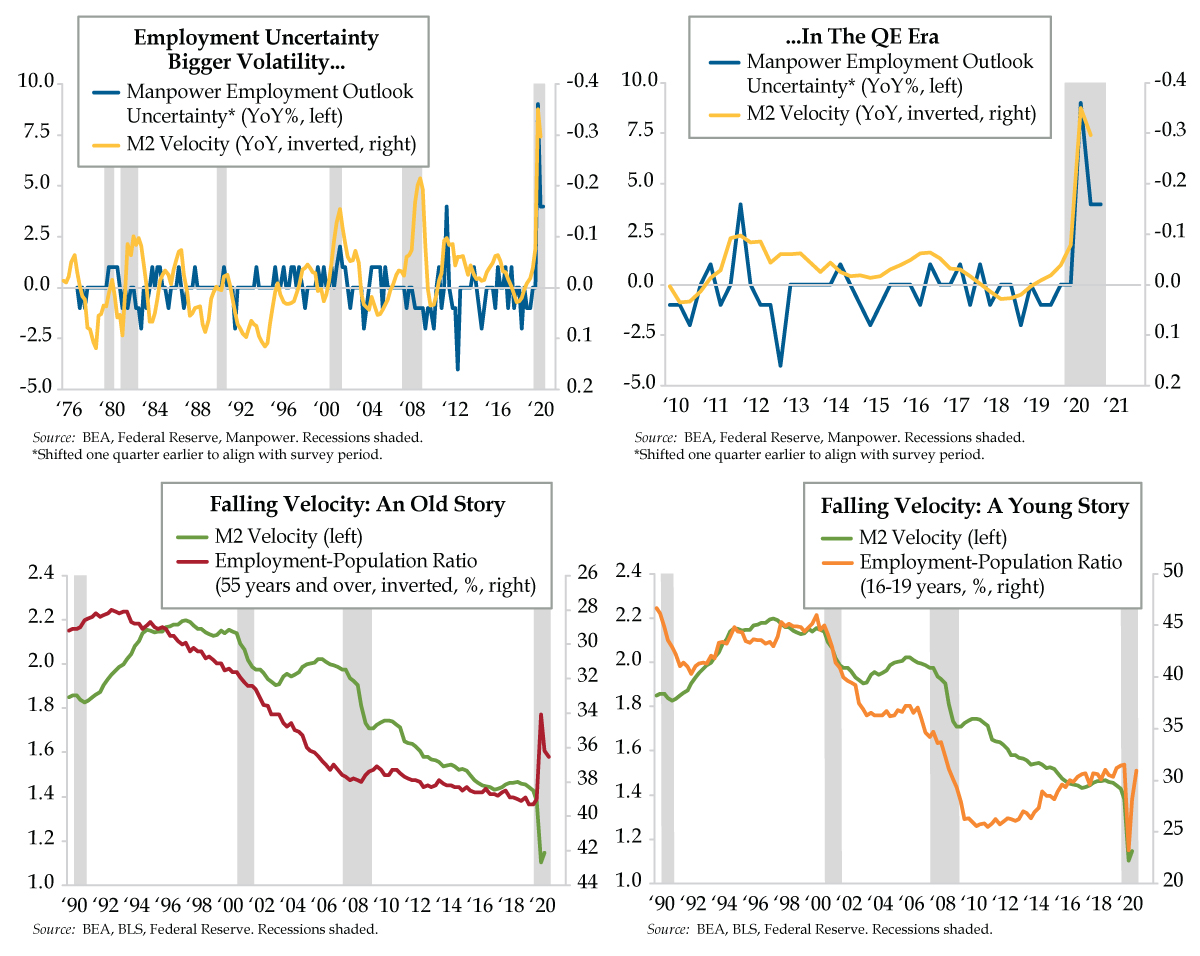 VIPs
Per the BLS, employment losses tied to business closures have been more than twice as high at firms with fewer than 500 employees; uncertainty remains rife for small businesses, with 39% seeing sales decline in the latest Census Pulse data, up from below 30% in early October

In Fidelity Investments' New Year Financial Resolutions Study, 38% of those surveyed say they'll be in "survival mode" in 2021 and focused on the day-to-day; uncertainty is higher among those aged 56-74 preparing to retire, with 42% of this cohort expressing concern

Since 1990, M2 money velocity has fallen as the share of those aged 16-19 working has dropped and those 55 and older working has risen; employment uncertainty has a negative relationship with velocity as well, and has become more volatile since 2008's launch of QE
Ever seen a scene that makes you cry every time? Take that moment in Central Park. Buddy the Elf is in the back of Santa's sleigh that's crashed and his sweet girlfriend with her melodic voice inspires the crowd gathered to join in singing "Santa Claus is Coming to Town." Together, they generate enough Christmas spirit to get the sleigh lifted off. Time and again, adoring audiences find themselves waving goodbye back to Buddy. In a 2018 interview, Will Ferrell said the scene never fails to bring him to tears: "I'm like, 'Oh, I can't let everyone see me cry here at my own movie.'" This is not the year to come together in big crowds and sing as one voice to share in the season's merriment. Weekends are not filled with Christmas parties. Family get-togethers are even limited in size and scope. That presents a dilemma when, "The best way to spread Christmas cheer, is singing loud for all to hear."
On Saturday night, QI hosted its 11th Festa di Natale Annuale. But there were not 250 guests arriving throughout the evening to feast on Napolitano recipes handed down for countless generations. So, we improvised. We cooked…for 95 families, each of whom drove through the drive in the front of the house and received 12 meatballs and 5 sausage links in a gallon-sized Ziploc filled with sauce, or "gravy," depending on where you grew up. The Christmas cheer was palpable by the end of the night.
If not cheer, there will be a collective sigh of relief among American families depending on CARES Act unemployment benefits. Aside from the 11-week extension for those collecting Pandemic Unemployment Assistance and Pandemic Emergency Unemployment Compensation, the relief package gives all unemployed an extra $300 per week. Many households will also receive a check for $600, though not in time to save Christmas.
The Paycheck Protection Program will also be extended. For many, it will be too little, too late. A December 14 Bureau of Labor Statistics (BLS) release revealed some startling statistics. In a survey conducted between July and September, 60% of establishments in which workers were paid an average annual wage of less than $20,000, it was reported they'd told "at least some employees not to work" since January 1, 2020. This compares to 39% of employers paying an average wage of $80,000 or more. A separate BLS report with data through mid-November found that employment loss tied to business closures has been more than twice as high at small firms, defined as firms with fewer than 500 employees, vis-à-vis their larger counterparts.
Dovetailing on the Census Pulse data highlighted Friday, nearly 39% of small businesses reported sales declines in December's second week, up from fewer than 30% in early October before the latest COVID surge. At the same time, more than 21% reported cutting hours, up from 14.5%.
According to Fidelity Investments' annual New Year Financial Resolutions Study, 38% of more than 3,000 surveyed say they'll be in "survival mode" in 2021. Age matters. Some 42% of those ages 56-74 say they'll be focused, "on the day-to-day as I try to get myself and/or family through the next year." A smaller 43% of those ages of 24-39 said the same. And finally, as reported by the Wall Street Journal, more than 60% of small business owners believe the worst of the pandemic lies ahead. Uncertainty remains rife.
Today's charts speak to uncertainty and its effect on velocity, the rate at which money changes hands within an economy. It would seem the composition of employment since 2000 helps explain velocity's decline (green line). Notably, there are times when fringe, not core, data are more central to the reasoning.
The tails of the employment distribution appear to be predictive. Since the mid-1990s, the employment-population for workers aged 55 and older (inverted red line) has risen continuously save the interruptions of the Great Recession and COVID-19. This seasoned cohort having the lowest velocity is intuitive – their working days are nearing an end and they're more focused on investing in assets and saving for retirement.
And then there are the youngest between 16 and 19 years, who've incessantly shrunken as a percentage of the workforce since their 1990s peak (orange line). They too track velocity relatively well, albeit in opposite fashion. Think of this group as the one where money burns a hole in their pockets – money in is money out. Twenty years ago, nearly half of this group had jobs; it's since fallen to one-third.
For the vast majority of workers, their directly deposited take-home pay feeds right into the money supply – and helps determine velocity. This inherent link between jobs and velocity suggests that periods of uncertainty regarding labor's prospects should be another piece of the puzzle. Historically, the volatility in employment uncertainty (blue line) was subdued. That changed after the Federal Reserve launched Quantitative Easing as those in the hiring seat perpetually asked, "What happens if the Fed ever normalizes monetary policy?"
Supplemental federal unemployment benefits ran dry on July 31st. If this is as quickly as a gridlocked Congress can act, it's likely the uncertainty factor will remain high, depending, of course, on those two Georgia runoffs. In the meantime, try your best to spread the Christmas cheer as 2020 finally winds down.