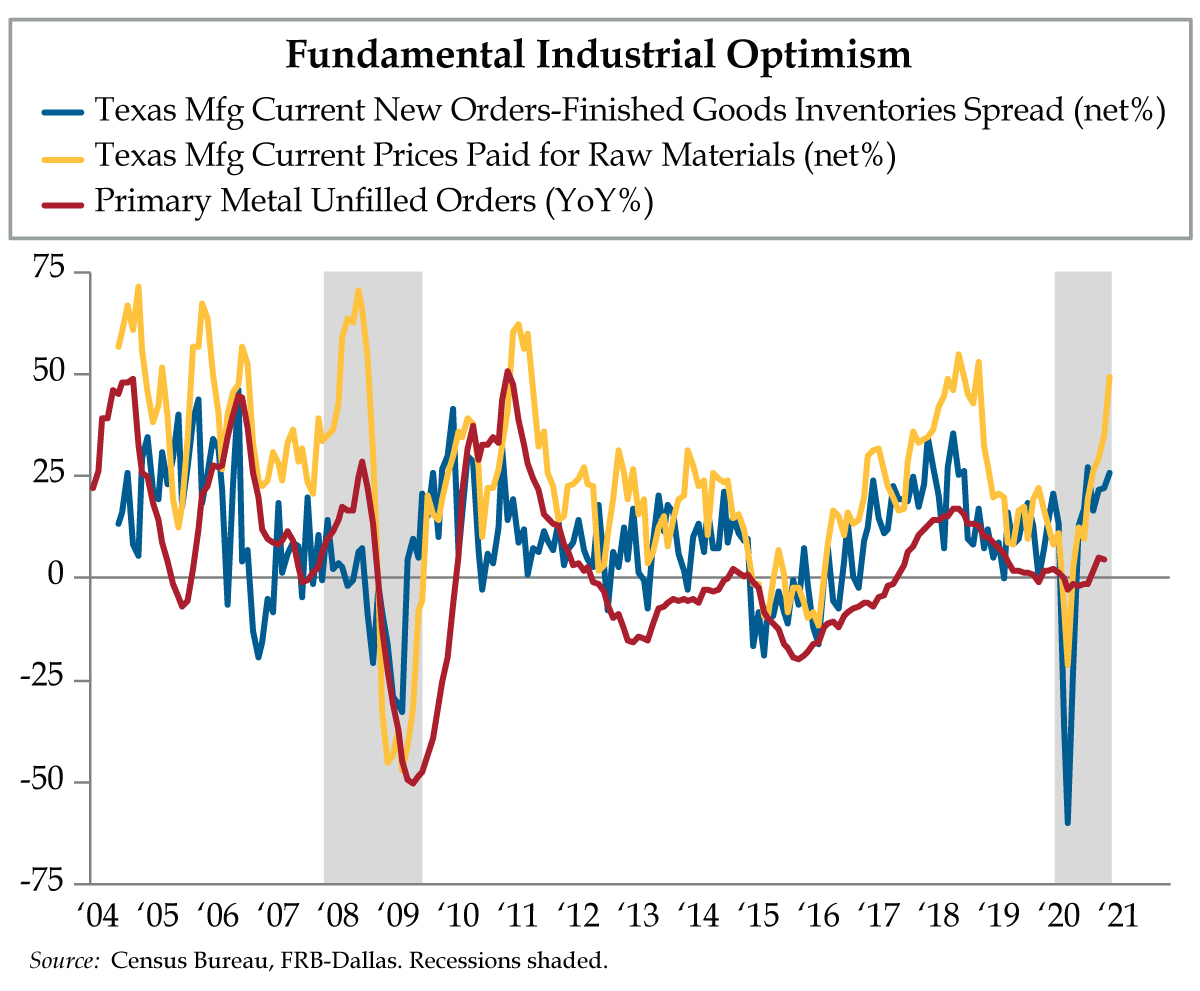 VIPs
Per the Dallas Fed Texas Manufacturing Outlook Survey, the New Orders-Finished Goods spread rose to 25.9% in December, the highest since August; with Raw Materials Prices also at their highest since late 2018, the current primary metal backlog should continue into 2021

While a quarter of firms have seen revenues rise in the last year, up from 10.2% in May, 59% still report sluggish sales; of the 52.3% of Texas manufacturers expecting permanent changes post-pandemic, 95.8% plan to reduce Business Travel while 83.6% plan to cut Office Space

The Texas factory sector appears to have some element of escape velocity given the influx of companies into the Lone Star State; by comparison, core capital durable goods orders have fallen for a fifth straight month from June's roaring 4.3% YoY to November's 0.4%
Continuing on our cultural journey exploring New Year's traditions takes us to the colder climes of Germany and Romania. In Deutschland, they get the lead out, albeit not of the 'Zeppelin' variety, to see what the new year might bring. Because of its low melting point, people soften small bits of lead in a spoon over a candle and then pour the liquid into cold water. The lead pouring, or Bleigießen yields all manner of symbolic shapes. A ball will bring luck and a star happiness, while a crown signifies wealth and a cross means death. Those who call the 'Land of Dracula' home channel the animal kingdom. Romanians don masks and furs of animals like goats, horses or bears and dance through their neighborhoods to ward off evil spirits. Believed to beckon good health, luck and prosperity, little wonder the Dance of the Bear is the most popular.
Few on Wall Street would dare cut a rug with a bear, especially as it pertains to the cyclically leading factory sector. Would you believe the industrial sector is also a matter of national security? There's even a government agency assigned with its safeguarding.
The U.S. Cybersecurity & Infrastructure Security Agency (CISA) classifies as "critical" 16 infrastructure sectors whose assets, systems, and networks — whether physical or virtual — are considered so vital that their incapacitation or destruction would have a debilitating effect on national security, the economy or public health and safety. The "Critical Manufacturing Sector" is among them. CISA's duty is protecting industries within that sector susceptible to manmade and natural disasters.
Four industries make the cut: 1) Primary Metals, 2) Machinery, 3) Electrical Equipment, Appliance and Components and 4) Transportation Equipment. Per CISA, products made by these industries are essential to other critical infrastructure sectors. We will focus on Primary Metals, the front of the production process line.
The seven months through November have seen increasing primary metals new orders and shipments. Over that same span, the level of orders has run above that of shipments; that positive spread denotes persistent improvement in unfilled orders. That expanding backlog is also bullish for downstream industrial activity where primary metals are used as inputs in final goods production.
To illustrate the trend's resilience, we transposed the primary metal backlog to an annual rate (red line). The lower oscillation calms the volatility tied to monthly durable goods data. The emerging upturn raises our higher conviction that metal producers will be pouring more than just lead in months to come.
Industrial bellwether Texas should validate the national trend. To test this, we share two series from yesterday's Dallas Fed Texas Manufacturing Outlook Survey, one that pits demand against supply and another which reflects pricing power in the supply chain. Building on momentum into the fourth quarter, the New Orders-Finished Goods Inventories spread rose to +25.9% in December (blue line), the highest since August. Current Prices Paid for Raw Materials vaulted to +49.0% (yellow line), the highest since late-2018 indicating strong excess demand. Turning points in these metrics tend to lead primary metal unfilled orders suggesting the national backlog extends into 2021.
It's a given that primary metals guide capital expenditures (capex). In a capex cycle, metals start the process while animal spirits sustain it. To that end, the Dallas Fed Future Capex index rose to +33.3% in December, the highest reading since early-2019. Backing this, our favorite forward factory indicator – future inventories – jumped to a decade high +19.8%.
As robust a signal as Texas is emitting, we'd be remiss to omit the color in the special question section which has been such a guiding light in a post-pandemic world. Nearly one-in-four firms are reporting rising revenues over the prior year, a post-pandemic high and more than double May's 10.2% print. The same cannot be said for 59% of those surveyed who are still reporting slumping sales vis-à-vis December 2019.
COVID-19 has also left an indelible mark on how business is done, even among Texas manufacturers. Of the 52.3% reporting the pandemic has caused "structural changes" expected to "be permanent," 95.8% and 83.6% respectively say they will be decreasing Business Travel and Office Space. The last chapter of the post-pandemic Commercial Real Estate story has yet to be written.
Changed business model or no, there's an undeniable element of escape velocity in the Texas factory sector. A national corroboration may be less forthright. Texas residents are well aware of the mass influx of companies and the hordes of employees relocating in their wake. But this is anything but a zero-sum game playing out from the perspectives of the states in expats' rearview mirrors.
We also note that northeastern corridor regional Fed manufacturing surveys ended the year on a less upbeat note than their Lone Star counterpart. And we raised an eyebrow at the fifth straight month of core capital durable goods orders slowing. For context, June's re-opening orders came roaring back at a 4.3% year-on-year pace but they've since slowed in stairstep fashion from July's 2.6% to November's 0.4%. Given the standout strength in autos, we'll look for further clues in tomorrow's Chicago PMI.
Headed into the New Year, we're happy to leave your champagne flute half-full care of the primary metals backlog and buoyant Texas Manufacturing indicators, both of which have us dancing like a Romanian bear at midnight as 2020 finally recedes into history.