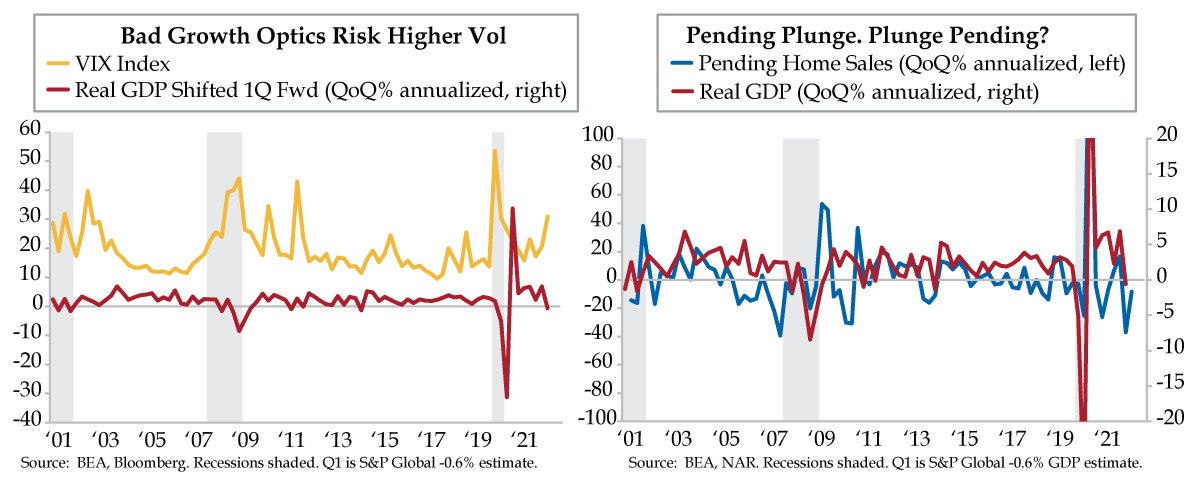 Most of us have a good handle on the product of a Google search beforehand. We were thus nonplussed by Merriam-Webster's definition of today's title as: "to not tell someone all the unpleasant or boring details about something." That said, search results can surprise. "Spare Me the Details" is also an intellectually protected piece of property owned by American punk rock/grunge band The Offspring. The song was featured as the tenth track from their seventh studio album, Splinter (2003), and was released as a single in 2004 in Australia and New Zealand only. The lyrics tell of a guy and his girlfriend going to a party. Tellingly, all manner of hell breaks out (it is a punk band). She gets drunk, cheats on him, and he finds out — the definition of a bad day, to understate.
Speaking of bad days… Today's first-quarter 2022 U.S. GDP report might seem like old news. Every quarter's first glimpse of GDP arrives one month after the prior quarter has ended. This 'tried and true' only holds, however, when the biggest economy in the world is in an expansionary mode, i.e., most of the time. Today's GDP data should not, and will not, be dismissed by investors as old hat, especially if the left-tail headline risk of a minus sign in front of the print reveals the first contraction since COVID hit.
Dr. Gates queried two portfolio-managers (PM) as to what their reaction would be to such a scenario unfolding. Both trade corporate credit; one on the investment grade (IG) side, the other in high yield (HY). After a short back-and-forth, the IG PM said that if past correlations hold, a contraction being flagged would probably kick rates in the teeth, leading to a widening in IG spreads. He added that quant/number driven trades usually don't move IG that much. Nice to be high quality. The HY PM had a different reaction. His response was direct: "Complete sh** show. We'll get crushed."
Given the unwavering verdict delivered via rankings, as we oft cite, the best in the business at tracking U.S. GDP growth intra-quarter are the experts at S&P Global. We mentioned Ben Herzon by name at the end of yesterday's Feather when his shop's first-quarter estimate was 0.1%. After Wednesday's advance reports on international trade and wholesale/retail inventories as well as pending home sales, he lowered his call to -0.6%. More on pending sales later if you didn't quite get your fill in the Weekly Quill which deep-dove housing's prospects. For what it's worth, there are a half dozen other sell-side economists clustered in the left tail who are also anticipating we see a contraction. As for the consensus? Try a 1.0% gain. That's the set up.
Wall Street traders and salespeople tend to look at the data stream calendrically. What's coming out today? What's the consensus? What number hit the tape? Spare the details. Miss the mark either way, and markets in the first 15 minutes of trading post-8:30 a.m. EST releases move wildly in one direction or another until the morning's macro data are digested.
Our small sampling of two PM responses from the credit space to a big downside surprise in U.S. growth suggest lower quality underperforms its counterpart. Extend this to other asset classes, and a broader risk-off tone could unfold, especially as the woefully late to the party Federal Reserve isn't likely to ride to the rescue. We've been told ad nauseum that Chair pro tempore Powell's battle to slay the beast of inflation is paramount. Besides, we won't hear from any Fed official because they are blessedly in the FOMC blackout period.
As if you hadn't gotten the memo, volatility can ensue in such communications vacuums, most notably in equities. Negative GDP would be optically toxic, raising the specter of recession and refuting Powell's endless assurances that the economy is "very strong." The upshot: The widely followed VIX index (yellow line) could spike higher yet from its starting point of 31.60. This fear gauge has a long-standing inverse correlation with the low-frequency GDP series (red line). For the sake of looking ahead, which markets do, we shifted the red line forward one quarter to illustrate the relationship in real time.
As for what swung Herzon's math, economists always pit demand against supply when judging the strength or weakness of a given quarter's performance. The risk for the first quarter is a drop in final sales driven by strength in imports. No, that's not an oxymoron. It's GDP math. Higher imports mean less GDP, but they also reflect domestic strength, not weakness. Inventory accumulation should also be a sizable drag on the top-line, a continuation of the well-advertised composition of first quarter GDP.
And then there's housing. Incorporating March's 1.2% decline, pending home sales fell at a 33% annualized rate over the last five months. This type of extended decline has occurred either during or leading up to recession or as payback following an idiosyncratic event, like 2010's homebuyer tax credit or 2020's COVID outmigration from urban centers. Both events pulled demand ahead via technicals as opposed to fundamentals.
Some might say we're in a realtor recession. We just did, which won't make us any friends. Either way, housing's leading the business cycle should have those who don't like to be spared the details thinking that the downturn could stick around for more than just three months.