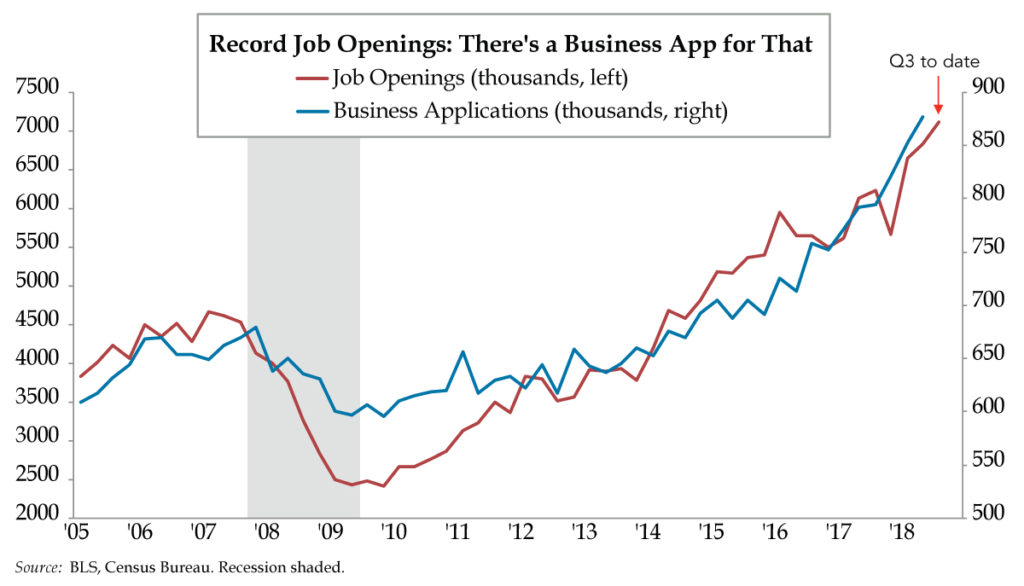 VIPs
The Job Openings and Labor Turnover, or JOLTS, has gained acceptance as an indicator even though the data lags payrolls by a month; former Fed Chair Yellen catapulted the data to fame by plugging it into her labor market dashboard
JOLTS have gained such acceptance in the economics community the Conference Board includes the data as one of eight inputs to derive its forward-looking Employment Trends Index
Job openings data exclude new businesses as they take nearly a year to show up in JOLTS; the Bureau of Labor Statistics constructed a birth/death model to address this issue
While many consider the birth/death model as a "plug factor" there is another way to determine small business formation and the jobs that follow; Business Formation Statistics are datapoints based on actual business formation applications
Business applications, the first felt pulse in the small business sector, and job openings are correlated; they've seen back-to-back quarters of double-digit growth for the first two quarters of 2018
At 7.085 million, September JOLTS are expected to come in just shy of August's record high level of 7.136 million
"Life is a banquet and most poor suckers are starving to death!" So bemoaned Auntie Mame of the weak set who manage to smite the offerings life itself affords us all. Played to perfection by Rosalind Russell in the 1958 film classic, Auntie Mame is a flamboyant socialite who hosts frequent fetes populated by boisterous bohemians, all of whom would know to arrive fashionably late. Of course, deliberately arriving after an event has started is the de rigueur way to flaunt one's social status.
In the "glamorous" world of economic data reporting (wink, wink, nudge, nudge), fashionably late is of little value. Leading indicators are the alpha dogs. There is one report, however, that stands as the exception — Job Openings and Labor Turnover, or JOLTS. It comes out the week after the big jobs report and is always a month behind. Last Friday's October nonfarm payrolls will be followed by today's September JOLTS.
Job openings – and other parts of the JOLTS report – gained rock star status when former Fed Chair Yellen put them on her labor market dashboard. Today, economists follow job openings like groupies. In fact, the Conference Board's forward-looking Employment Trends Index includes this broad labor demand indicator as part of its 'starting eight.'
What makes a job opening a job opening? The Bureau of Labor Statistics (BLS) lists three qualities: "1) a specific position exists and there is work available for that position, 2) work could start within 30 days whether or not the employer found a suitable candidate, and 3) the employer is actively recruiting from outside the establishment to fill the position."
Who's left out? BLS notes "jobs to be filled only by internal transfers, promotions, demotions, or recall from layoffs are excluded. Also excluded are jobs with start dates more than 30 days in the future, jobs for which employees have been hired but have not yet reported for work, and jobs to be filled by employees of temporary help agencies, employee leasing companies, outside contractors, or consultants."
But there's something missing. New businesses take about a year to show up in the JOLTS survey; many also fail within the first year. To account for these missing puzzle pieces, BLS statisticians constructed a business birth/death model. Those familiar with the inner workings of the nonfarm payroll data will recognize this phrase.
For lack of a better word, it's a guess. Street veterans, some of whom QI calls close friends, still refer to the birth/death model as a "plug factor." For those cynics in the audience, like John Crudele of the New York Post, who's long held an aversion to "phantom" numbers (we don't blame him), the figures are a complete fabrication.
Knowing what you know, it's easy enough to see why an army of naysayers is at the ready once a month, pitchforks in hand.
But there is another pathway to arrive at the critical juncture of small business formation and the jobs that follow. Enter the Census Bureau report on Business Formation Statistics (BFS), which is based not on models, but rather, hard data. The foundation of this nifty database is Employer Identification Numbers (EINs). You may have filled out just such an application for the IRS to get an EIN at some point in your own career. You may have even followed this action by taking on employees after your burgeoning business began to grow. You can't after all, have a payroll without an EIN.
By the looks of the chart up top, business applications and job openings are no strangers to one another. Maybe, the bean counters at the BLS do deserve props for building an accurate job openings model after all.
As much as the man in the White House would love fresh tweet fodder on this Election Day, the consensus is not calling for another record high in this morning's JOLTS report. Expectations are for 7.085 million job openings in September, just off August's high of 7.136 million.
Stepping back, business applications are the first pulse that emanates from the small business sector. As the population of nascent businesses cum new employers grows, the grass roots sensation rises to intoxicating levels, feeding optimism for potentially faster economic optimism.
It took a long time, too long, for business applications and job openings to get off the ground during this economic expansion. But the quickening in the last year is undeniable and significant, fashionably late as the showing may be. But as they say about better late than never, the first and second quarters of 2018 were the first back-to-back quarters of double-digit annual growth since the end of the Great Recession. It's as if middle America is channeling Auntie Mame en masse, asking as she did, ever so dryly, "Exclusively what and restricted to whom?"