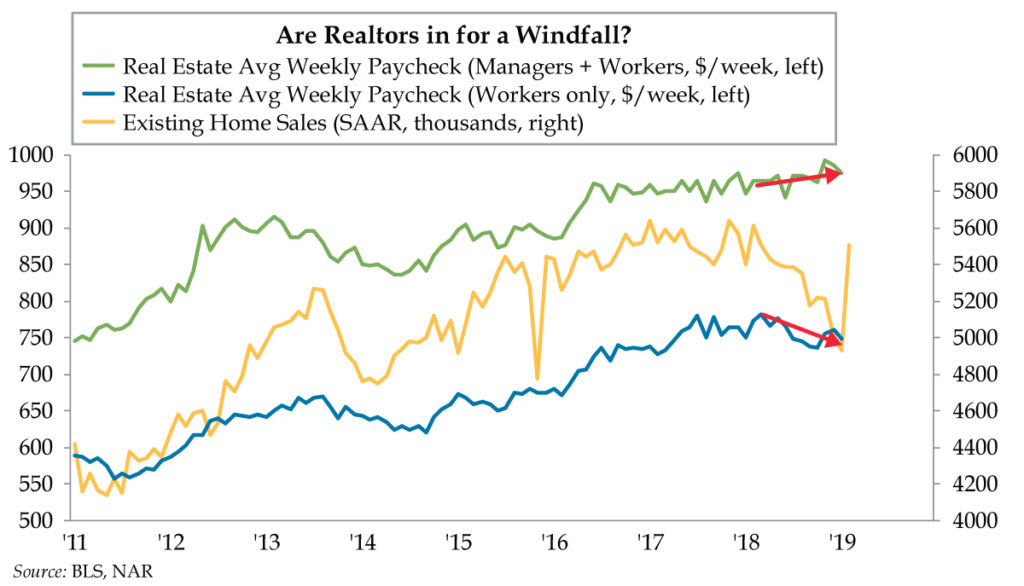 VIPS
Pay in the real estate industry has swelled by a third in eight years; continued income gains are expected with existing home sales spiking 11.8% in February which nearly erases the 1.8% decline over the prior twelve months
While home sales are lower than they were in 2018, prices are still up by 3.6% over the prior twelve months; in February, median home prices remained unchanged after declining for the prior two months and are down 9% from their highs
First time homebuyers comprised 32% of existing home sales in February, up from 29% in January; a continued decline in prices would enhance millennials' affordability, which is essential given the persistent gap between income and prices
Fixed-incomers are increasingly keen to sell their high-maintenance "McMansions;" reducing prices sufficiently for millennials may require unprecedented discounts and continued paring of realtor ranks
Mortgage applications to buy homes are only up 1% over 2018 headed into the crucial spring selling season; meanwhile, mortgage delinquencies rose by 3.7% last month, the first February increase in 12 years
She didn't try to be Julia; she played her to perfection. And she grifted with the best of them. Yet somehow, we write of Annette Bening's career without inserting notations of Oscars won despite her four nominations. Of all her Academy nods, QI's favorite has to be that of Carolyn in 1999's American Beauty. The film, which won Best Picture, was as dark as satire gets. Portraying a deeply neurotic and insanely materialistic real-estate agent, Bening's best scene is titled "I will sell this house today!" Stripped down to a scarlet slip and heels for the tall task, Bening scours, polishes, vacuums and attacks the listless listing. Alas, the vivacious sales pitches that follow cannot gloss over the cleaned pig with fresh lipstick still being a pig. Bening's brilliance nevertheless shines while casting realtors in a whole new light.
Forget about any housing crisis aftermath. Real estate agents have never had it so good. Or better said, the buying power for every buck spent by the National Association of Realtors, America's second-largest lobby, has never been so strong. Whether you're a worker bee or in the management ranks, pay in the real estate industry has swelled by a third in the short space of eight years. That's not bad work if you don't mind scrubbing an occasional toilet.
Better yet, word on the Street is that real estate paychecks are set to soar. After sinking in five of the six months through January, existing home sales spiked 11.8% in February, nearly erasing their 1.8% decline over the prior 12 months. The sales eruption might have something to do with median home prices, which were unchanged after falling the two previous months and 9% from their highs. That's good news given median prices hit a record high $259,100 in 2018. Still, at 3.6%, prices remain up by twice the pace at which sales have declined over the last year. Sellers could, in other words, have a ways to go in the give-back department.
A continued decline in home prices would be welcome news to millennials with procreation on the agenda. First-time homebuyers comprised 32% of buyers in February, up from 29% in January and matching December's levels. Call this demographic cohort the mother of all missing links while referencing last week's Wall Street Journal story, "A Growing Problem in Real Estate: Too Many Big Houses."
At the core of what ails McMansion-filled markets, "Many boomers are discovering that these large, high-maintenance houses no longer fit their needs as they grow older, but younger people aren't buying them." There's a good reason for that but there is not an app that can fix it. Millennials are at best about 10 years behind where they should be in setting up house and home. And they're nowhere near where boomers need them to be.
Home ownership, you see, is a process. First-timers buy entry-level homes and procreate their way into being cramped. At this juncture, they trade up to a move-up home, which hopefully matches their income gains as prime earnings years kick in. Finally, peak earnings years finance dream homes, the McMansions boomers built but are quickly falling out of love with given their steep upkeep as they segue to fixed incomes.
There is, in other words, a gaping gap between what the vast majority of buyers can bring to the table and what sellers expect to receive. Bringing prices down to millennial levels of affordability could entail more discounting than the industry has ever witnessed. Call it the vicious vestige of the last housing boom coming home to roost.
The continued shrinking of the 6% commission pie means we should expect more outsized weakness in realtors' paychecks. Managers, meanwhile, will continue to cull the overpopulated realtor ranks in favor of the most cost-efficient way to maximize profits – handling transactions themselves. This trend explains why paychecks including management peaked in November, as buyers rushed to react to mortgage rates succumbing to macroeconomic gravity, eight months after income topped out for realtors as a stand-alone.
We're hopeful an encore to February's blow-out sales is in the offing. But we worry the Spring selling season is not off to the strongest start. For starters, applications to buy homes are up 1% over last year.
More importantly, while down an impressive 9.5% over 2018, mortgage delinquencies rose by 3.7% last month, the first February increase in 12 years. Black Knight notes that February and March are traditional catch-up months due to tax refund season. Could it be with boomers' average $5,400 refund more than double that of millennials and Gen X'ers, the wrong folks are receiving the relief?
Resolute realtors can scour, polish and vacuum to their wits' end. They still might not sell that house today.