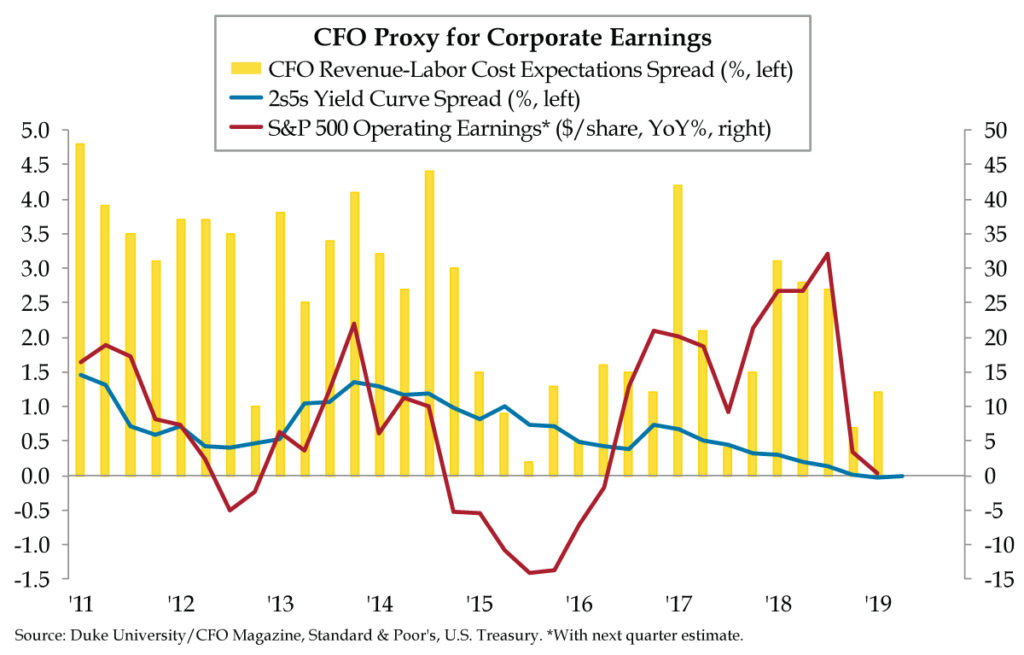 VIPs
The latest Duke University/CFO Global Business Outlook reveals a postponement of the perceived likelihood of a recession from the end of 2019 to late in 2020
While U.S. CFOs still expect continued revenue growth, attracting and retaining qualified employees was their top business concern suggesting margins being squeezed by higher wages
Subtracting the coming year's labor cost expectations from those of revenue growth reveals three instances since 2011 with tight spreads; at 3.1%, the spread peaked in 2018's first quarter, six quarters before S&P earnings and has since fallen to 0.4%
The recent Beige Book's narrative pegged similar earnings compression; critically, corporate earnings headwinds are clashing with a slightly inverted yield curve
Based upon CFO's Outlook, the yield curve inversion should widen by the third quarter as inversions typically lead recessions by 12 months; high asset valuations shorten the lag time between inversion and recession
Is there anything funnier than seeing an actor breaking character and just bursting out in laughter on screen? For those with a few grays behind the ears, you probably went right to Harvey Korman. He was famous for breaking character on The Carol Burnett Show when he would start smiling and chuckling during sketches, usually due to the antics of Tim Conway, who would deliberately try to crack him up. Korman is also best remembered for his performances in Mel Brooks' films such as Blazing Saddles and History of the World: Part I. There's no way to forget Korman as the villainous Hedley Lamarr or the pompous Count de Monet. "Count da Money? de Monet! de Monet!"
Chief Financial Officers (CFO) are the modern-day executive versions of those who Count da Money charged with shepherding a firms' finances. CFO duties include tracking cash flow and financial planning as well as analyzing the company's financial strengths and weaknesses and proposing corrective actions. They have significant input in the company's investments, capital structure and how the company manages its income and expenses. In the current cheap money era, CFOs also fulfill the role of the buyback fairy – investors' favorite.
"Recession Expected by Late 2020," is how yesterday's latest read from the Duke University/CFO Global Business Outlook began. No need to panic. This was a material upgrade from the last CFO survey with the more alarming opening line: "Recession Considered Likely by Year-End 2019." 
Despite the eye-catching headline, U.S. CFOs still expect continued revenue growth and even higher wage expectations; attracting and retaining qualified employees was their top business concern.
QI prides itself on reading between the lines. So we decided to compare the CFO expectations for revenue growth in the next 12 months with the outlook for the growth in wages and salaries over the same time frame. This simple revenue-labor cost spread acts as a good proxy for corporate earnings growth (illustrated by the gold bars, above). 
The limited history of the revenue series only allows us to make comparisons back to 2011. Even with just eight years in hand, there are three distinct periods that show compression between revenues and labor costs: 2011-12, 2014-16 and 2018-19. 
Each one of these episodes can be illustrated in the same fashion when observing the trend in S&P 500 operating earnings. The red line above traces the same pattern. Three discrete cycles are evident. The most recent one peaked with the revenue-labor cost spread at 3.1% in the first quarter of 2018, two quarters before the S&P earnings peak.
Since then, the CFO spread has narrowed sharply to 0.7% and 1.2% in the fourth and first quarters, respectively. S&P earnings growth decelerated markedly from 32.1% in 2018's third quarter to an estimated 0.4% stall speed in the first quarter of this year (first-quarter earnings season is underway and this number will be revised in coming weeks).
It's no coincidence that yesterday's Fed Beige Book included two excerpts that qualitatively echoed what the team at Duke quantified. 
This described revenue expectations: "There was little change in the outlook among contacts in reporting Districts, with those expecting slight-to-modest growth in the months ahead."
This described labor cost expectations: "This tight labor market also led to continued wage pressures, as most Districts reported moderate wage growth."
To translate Beige-Book-speak, moderate > modest > slight. Is that clear? Crystal. The Beige Book effectively picked up the same CFO narrative of an earnings squeeze with labor costs growing faster than expected revenues. This can only occur if corporate pricing power is challenged and translates into a deflationary impulse for corporate profits.
Don't limit your view of deflationary risks to falling prices. Deflation in corporate earnings would build a more durable case for a prolonged earnings recession. The risk of persistent profit headwinds is occurring at a time when the yield curve is already inverted – slightly – between the 2-year and 5-year tenors (blue line, above).
For investors, yield curve inversions cause a fear reflex because inversions have been precursors to past recessions. Once inversion occurs, the rule of thumb on trading floors is recession could start 12 months later. The swing factor that compresses inversion-to-recession lag time is the extent to which risky assets are overvalued. March 2000 is the poster child for a shortened runway.
CFOs are already pegging a start time for recession. The CFO survey noted that "67% of U.S. CFOs believe that the U.S. will be in recession by the third quarter of 2020." If you reverse engineer this CFO expectation to the yield curve, then by the third quarter of 2019, we should not be observing a slight inversion, but one that should be "modest" to "moderate" in Beige Book circumspect-speak. Back here in the unreal world, it will be akin to a cattle stampede…through the Vatican. ("Kinky")