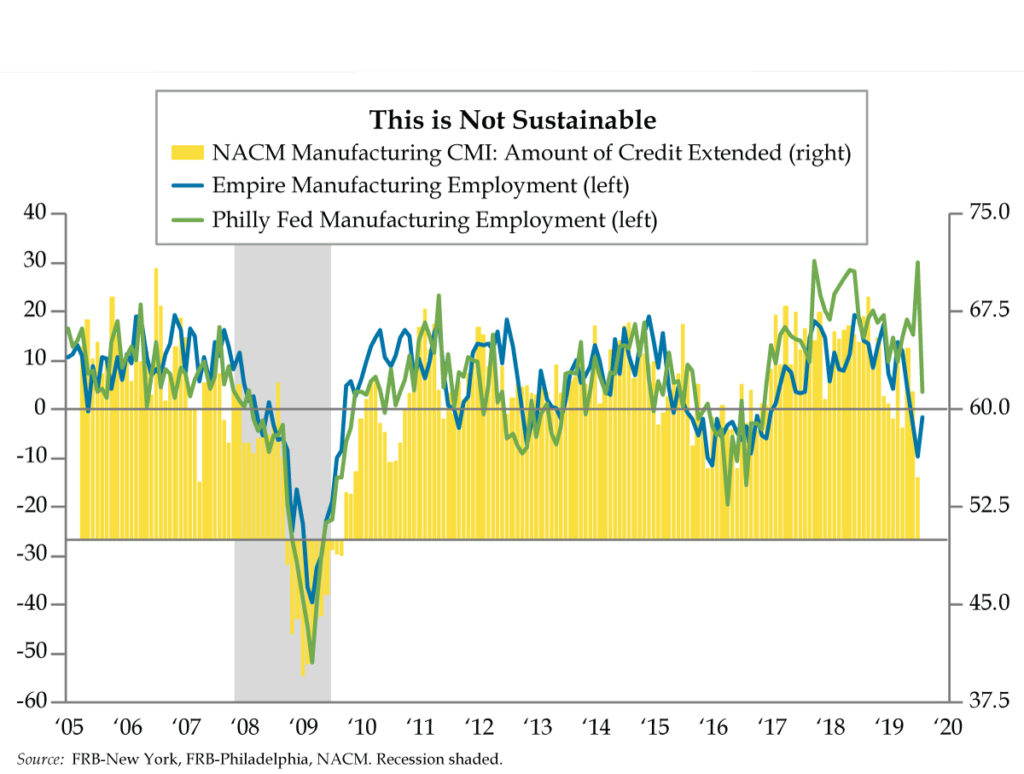 VIPs
While the August Empire Index headline was higher than forecast with some positive internals, backlogs deteriorated further for a third straight month; the six-month outlook was mixed with future inventories higher but future business conditions, new orders and backlogs lower
The Empire's employment index was negative for a third straight month with the current workweek turning negative and the future workweek sliding to unchanged; employment weakness was also the culprit for the July New York ISM falling to a three-year low
The Philly Fed reported robust numbers relative to expectations in August though employment nosedived to the downside; the parallel deterioration in employment in the two Fed Districts is likely flagging a national development
Before there was "meh," there was "mezza-mezza." Biased we may be as two Italians with Connecticut and New Jersey roots, it's such a richer reply. If you're into the etymological, the translation is "half good, half bad." But it's so much more than that. It's expressive, as in accompanied by a hand gesture, and thus true to its southern Italian origins. Ask us anything about anything. If ambivalent is as good as the sentiment gets, you'll see us raise our right hand and rock it slightly back and forth. And then the reply, "Eh…mezza mezza."
No doubt, the bubbleheads were enthusiastic about Thursday morning's parade of economic data. And there was plenty of upside to go around. And yet, once we got into and out of the weeds and posed the question: "So how is the economy according to the latest run of economic readings?" our reply was, "Eh…mezza mezza."
Nowhere was the good that went hand-in-hand with the bad more apparent than in the Empire State Manufacturing Survey. We're particularly enamored with this survey as the New York Federal Reserve District encompasses not just the state of New York but northern New Jersey and a slice of southern Connecticut, a.k.a. QI's stomping ground.
Another saying up our way is, "Go big or go home." The NY Fed also checks that box. As per its self-description: "Though it serves a geographically small area compared with those of other Federal Reserve Banks, the New York Fed is the largest Reserve Bank in terms of assets and volume of activity."
With that, the Empire headline index edged up to 4.8 from 4.3, but that was still more than double the estimate of 2. Among the respondents, 27% said business conditions had improved in August while 22% said they had deteriorated. How enlightening.
As far as the internals, new orders and shipments were up, but backlogs – think future demand – fell further into negative territory where they've been for three consecutive months. As for the six-month outlook, on the plus side, future inventories popped. Meanwhile, future general business conditions erased their July gain and future new orders and backlogs weakened.
Echoing backlogs' persistence, employment was negative for a third straight month. But it was the workweek that caught our attention as we closely monitor the trend of weak hours frontrunning declining headcount. On that count, the current workweek turned negative while the future fell to a flatline, "pointing to ongoing sluggishness in employment levels and hours worked" in the words of those who compile the survey data.
As an aside, we are keen to see the August report for New York City's ISM. Think of it as the pulse of Wall Street. In July, the index skidded to a three-year low weighed down by employment, which we didn't need data to tell us given the litany of layoff headlines. Stay tuned.
Speaking of the Street, the Philadelphia Fed, which gets all the love on the sell side, was also released its factory survey yesterday morning – a rare occurrence as it almost always follows the Empire. The upside on the topline was more notable, hitting 16.8, nearly twice the estimate of 9.5. QI compadre Peter Boockvar always does an outstanding job at contextualizing the data. As he observed of the Philly, it's still down from the July leap to 21.8, "which was a total outlier after seeing the national number."
New orders, inventories and even backlogs all rose – unmitigated good news. Also good on the profit margin side was that prices paid fell while those received rose.
But once again, it was the employment that surprised to the downside, collapsing to 3.6 from 30.0, the lowest level since November 2016. The parallel deterioration across the two Fed Districts is what prompted us to illustrate them today – this should become a national story. And as we know from hours worked nationwide in July, it's all about the workweek. That too looked ugly tumbling to 6.8 from 23.0.
Faith in today but not so much in tomorrow. Or as Boockvar observed, "We have to assume the August 1st tariff tweet left everyone scrambling to procure products as quickly as possible ahead of implementation. Not that one month would give anyone enough time to deal with it, but one has to wonder what influence that had on these numbers and the other regional surveys to come."
On a separate but similar note, we've also depicted credit extended to manufacturers in July. It would appear the NACM keepers of the credit lines featured in Monday's Feather are pulling access to funding first and asking questions later. The level fell to the lowest since November 2009. That's a thumbs down in our book, not mezza mezza.