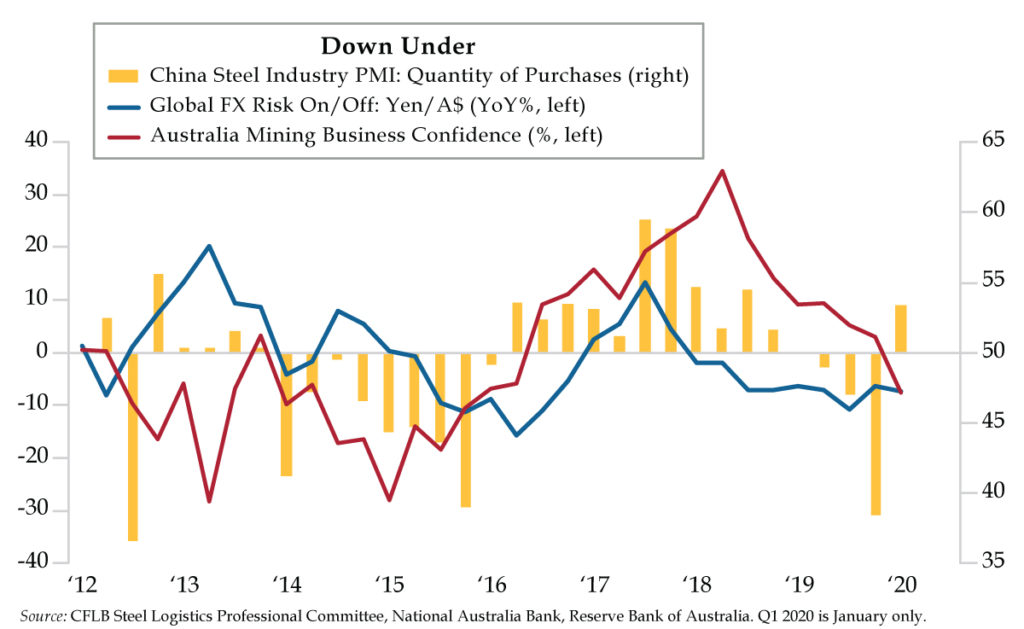 VIPs
Given Australia exports more than 35% of its GDP to China, its economy faces an amplified demand shock from the Coronavirus; iron ore exports, the most critical global commodity, are acutely vulnerable accounting for nearly half of Australia's exports to China
The Australian dollar is highly sensitive to global commodity price swings while the Japanese Yen is considered a safe-haven asset; the declining cross rate trend between the two indicates a continuation of defensive posturing that's held since 2018
As the new cases of coronavirus continue to escalate, risks to the supply chain mount; downstream steel facilities may be forced to delay restarting increasing the pressure on raw materials and commodity pricing at the expense of finished goods
Have you ever met a strange lady who made you nervous who took you in and gave you breakfast? Or did you ever buy bread from a man in Brussels who was six-foot-four, full of muscle, smiled and gave you a vegemite sandwich? If so, your name is Colin Hay, co-founder of the Australian rock band Men at Work. The paraphrased lyrics in the opening questions were plucked from the group's 1981 mega-hit Down Under that depicted an Australian man traveling the globe, meeting people interested in his home country. The song also warned Hay's fellow Australians that their country's identity was dying as a result of overdevelopment and Americanization.
Luckily, those worries have been left in the Outback dust. The Australian economy has enjoyed nearly three decades of uninterrupted expansion, clocking its last recession in 1990-91. Concerns about Americanization have faded and been replaced with worries over a housing bubble alongside an overreliance on China as a key trading partner.
In fact, Australia's export exposure to China was featured prominently in last Wednesday's Weekly Quill, "China Through the Looking Glass." Australia's 35% export share to China topped our list of economies, followed by Chile, South Korea, Brazil, Japan, The Philippines, Thailand, Vietnam, Saudi Arabia and Singapore. Call that QI's short list to watch regarding the extent of China's unfolding coronavirus demand shock.
As for particular pockets of vulnerability, according to the Observatory of Economic Complexity, iron ore accounted for 46% of Australia's exports to China in 2017. At 11%, coal briquettes were a very distant second. This lack of diversity in Australia's export mosaic means the country is much more reliant on China's steel industry vis-à-vis other nations that ship their wares to the Middle Kingdom.
For perspective, Australia's rich iron ore deposits contain very high quantities of hematite or magnetite, known as "natural ores" or "direct shipping ores" and can thus be fed directly into iron-making blast furnaces. In the event you're unfamiliar, iron ore is the raw material used to make pig iron, one of the main raw materials to make steel. Moreover, one can make a case that iron ore is more integral to the global economy than any other commodity, except perhaps oil.
Conveniently, the China Federation of Logistics & Purchasing's (CFLB) Steel Logistics Professional Committee compiles a monthly survey on the steel industry. We've hand-picked one of the subcomponents of the purchasing managers' index (PMI) to guide the remainder of our analysis. The Quantity of Purchases index portrays how much product, in volume terms, China sources each month for the production of steel inside the country. Until recently, things were looking mighty bleak.
In October, this Index tied a record low of 33.5 hit only one other time in August 2012. It proceeded to bounce into the low 40s to end the fourth quarter with an average of 38.4 (yellow bars). And then came January and the relative spike to 53.4, well in the expansion zone. All clear!
With the coronavirus shock overtaking China later in January and into February, this nascent bullish signal will be snuffed. Yesterday's National Australia Bank (NAB) January business survey concurred. In January, mining business confidence (red line) slipped to -7.5, well south of the fourth-quarter average of 3.1 that was already pressured by the tragic bushfires. NAB noted that business confidence "was sharply lower in mining." The risk for February is that pessimism gaps downward from the already depressed readings on par with levels from five years back.
If you're looking for the most direct financial market expression of this building distress, your destination is the foreign exchange (FX) channel. The third series on today's chart captures a broader read of risk on/risk off by using the cross rate between the Australian dollar and the Japanese yen. The former has a high sensitivity to global commodity price trends while the latter is a classic safe-haven asset. The declining year-over-year trend that's persisted since 2018 continues to favor a defensive posture.
Prior to Wednesday's shock announcement from Chinese officials that new coronaviruses daily reported cases had catapulted to 15,110 from 2,467 in one 24-hour period, hopes prevailed that there would not be widespread curtailment of steel production stemming from the outbreak. As the thinking goes, blast furnaces are an integral part of the process and take weeks, if not months, to restart. So keep them running if possible.
If, however, downstream facilities are forced to delay restarting, this will lead to a build-up of feedstock at the expense of finished products, further pressuring supply chains and commodity prices as construction, auto production and China's broader manufacturing sector get hit. Channeling Colin Hay, "you better run, you better take cover." The potential for a demand shock on Australia's iron ore industry might be understated.