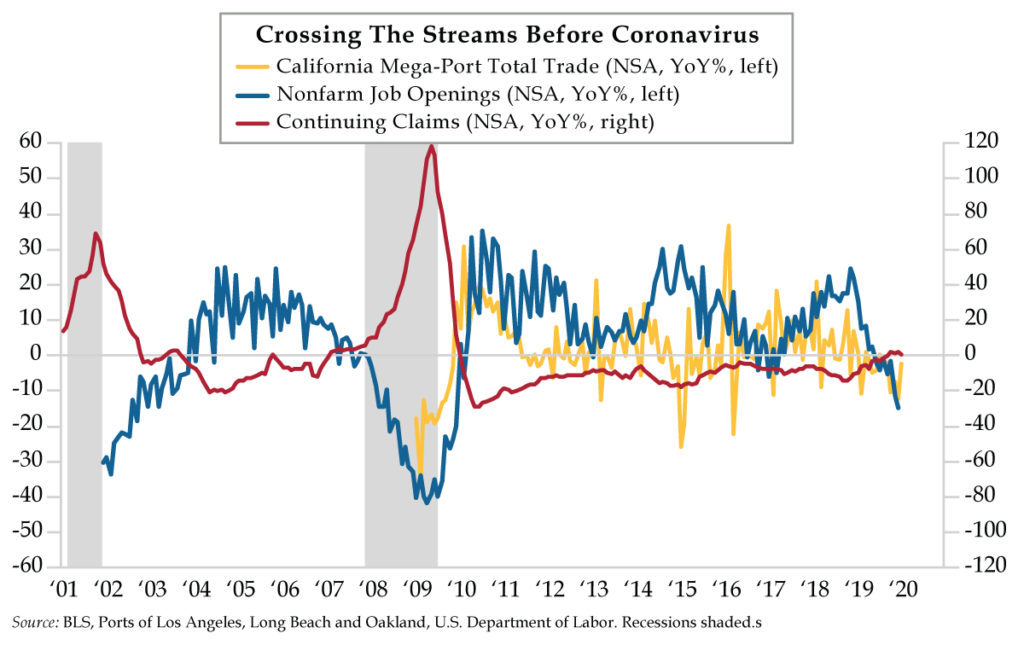 VIPs
At 7.5 million openings, JOLTS peaked in December of 2018 and declined to 6.4M a year later leaving 2020 starting off with 15% fewer available jobs; while not a recessionary reading, this long-lagged indicator signals a turning point in the cycle's job market
From a historically low base, continuing jobless claims have risen for four months running with October marking the first month both job openings fell

,

and continuing claims rose; still in recession, the factory sector will determine whether these disparate trends deepen
Encouraging data from the West Coast ports may be short-lived as they pre-date the Coronavirus; China ports are at one-third manpower flagging both a supply shock via U.S. imports from China and a demand shock from Chinese factory slowdown and homebound Chinese households
'Tis the campaign season! No, we are not about to tread even lightly into the politics of the day. Presidential campaigns of yore, however, are fair game. It is history, after all. The year was 1976. The target – high unemployment and high inflation. It was called the "misery index" and conceived by economist Arthur Okun to convey how very dreadful the 1970's economy was. The math was simple – add the two rates. Living with the 12.5% sum was anything but. Placing blame on one Gerald Ford was shrewd. But it wasn't nearly as cunning as Reagan, who quoted Carter circa 1976 at a live 1980 debate: "He said that 'No man with that size misery index had a right to seek re-election to the presidency.'" Reagan's punchline: Carter's secret weapon index now stood at 19.9%.
Judging by today's index level of barely discernible, we're the happiest citizenry to ever call a country home. Most gauges of consumer and business confidence say as much. With all deference to the surveys, we suspect not everyone is answering those surveys, particularly the 630 business owners who filed for Chapter 11 bankruptcy this January. Compare that to January 2019 when 366 businesses filed, translating to a 72% jump over the prior year. January 2020 also saw a 61% increase over December 2019's filings. We will share the historical data from the American Bankruptcy Institute as soon as we can.
In the interim, we should be wondering: What's ailing Little Corporate America? At the most fundamental level, our answer would be end demand is not what it once was. Have a gander at the blue line above, the painfully lagged Job Openings and Labor Turnover Survey for which we have data through last December. While one month does not make for a trend, one year of data does the trick. At the highest level, in December 2018, there were 7.5 million job openings. One year later, that number had fallen to 6.4 million. It's pretty straightforward. We started 2020 with 1.1 million, or 15%, fewer job openings than we did 2019.
Parsing it out to individual months, June 2019 marked the turn. The trend shifted from year-over-year positive to negative. Safe assured, down 15% is not the end of the world when compared to April 2009's -42%. That was a recession.
We decided to contrast the longest-lagged job market data with our favored 2020 go-to, the most real time data of all – not seasonally adjusted continuing jobless claims. Now that we have the full month of January in hand, we can call a fourth consecutive month of rising continuing claims over the prior year.
To be clear, we're talking tiny numbers here. January's continuing claims are up 0.4% over the last 12 months. But it's the persistence that matters when a regime change is at hand. As you can see, October was the first month of this cycle that both continuing claims rose, and job openings fell. We call that confirmation.
From that concrete conclusion, we back out to the nebulous. What happens at the margin at these delicate junctures is what matters most. Given the ongoing industrial recession is the U.S. economy's weakest point, we figure that's the best place to start. If your weakest link can absorb a shock, your entire chain holds.
We would like to tell you that we had some encouraging news to share about traffic at the West Coast's three mega-ports of Los Angeles, Long Beach and Oakland. Despite being in contraction for 10 of the last 12 months, total trade improved to -2.2% in January from -12.2% in December. Though still in the red, this is the least negative reading in six months.
Furthermore, we'd been expecting this rebound given the message in regional Fed manufacturing surveys – stocks had been so depleted, they had to be replenished. We still think inventories are not quite where they need to be, and therein lies the rub.
The coronavirus adds a supply shock insult to the trade war demand shock injury U.S. factories are still reeling from. But it's more than that. The coronavirus will pile a demand shock on top of a pre-existing demand shock. Think heart attack meets stroke.
The fact is, the tankers that landed in California in January sailed before the Coronavirus hit. Connect the dots from there. Chinese ports are running at one-third of their normal headcount. Expect price spikes in delayed imported supplies. Tack on a collapse in demand for what will soon be languishing in our own ports that had been scheduled to transport to China.
Supply shocks force further cost cuts. Demand shocks do the same. This may not be the same kind of stagflation seen in the 1970s. But it still gives new meaning to misery.
A special word of thanks to Evergreen Gavekal's David Hay for inspiring QI to dig deeper into these data on Thursday.