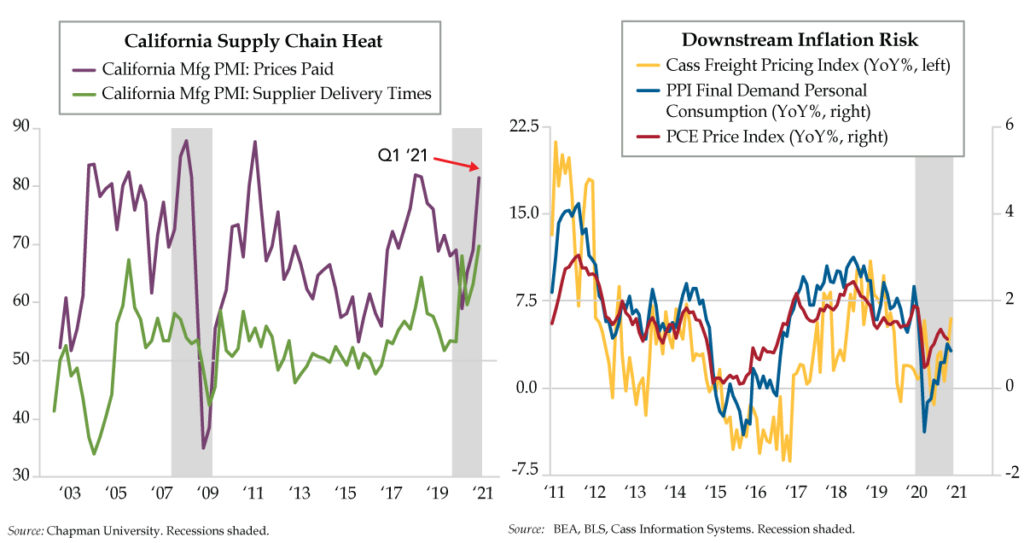 VIPs
Through December, total container volume through California's three mega-ports rose at a 16.0% annual rate, the strongest since February 2018; imports drove this strength, advancing at a 23% YoY rate, marking a full quarter of prints north of 20% for the first time in ten years

Supplier Deliveries rose to a record high 69.8 in Q1 2021, per the California PMI, with all 18 manufacturing industries reporting longer delivery times; the tight supply chain helped push the Commodities Prices Index to 81.5, its highest reading since the advent of the trade war

Both the Cass Freight Shipments and Freight Expenditures Indices were at two-year highs in December, rising 6.7% and 13% YoY; Cass Freight Pricing, which sports a 0.62 correlation with PCE, spiked to 6.4% YoY from 0.6% in October, flagging higher consumer inflation
Truckin', I'm a goin' home
Whoa, whoa, baby, back where I belong
Back home, sit down and patch my bones
And get back truckin' on
The Library of Congress is the depository for the National Recording Registry. Think of them as songs that are national treasures. Recent years' additions include Kenny Loggins' "Footloose" in 2017, Ritchie Valens' "La Bamba" in 2018 and The Village People's "Y.M.C.A." in 2019. The song that is front and center is 1997's "Truckin'" by the Grateful Dead. Given the honor time has bestowed, it's sweetly ironic that the band members considered the tune a "catchy shuffle." The communal feel of the song stems from the shared input of all four of the group's chief songwriters — Jerry Garcia, Bob Weir, Phil Lesh and lyricist Robert Hunter. In Lesh's words, "we took our experiences on the road and made it poetry," lyrically and musically, adding that the "the last chorus defines the band itself."
A lack of deadhead containers headed back from U.S. shores to Shanghai lands us at our daily journey's starting point — California's three mega-ports of Los Angeles, Long Beach and Oakland. Total trade (i.e., exports plus imports) through these three main Pacific Coast gateways furthered its rebound from the COVID-19 shock in the spring. Through December, total container volume – inbound and outbound – expanded at a 16.0% annual rate, the strongest since February 2018, both pre-COVID and pre-U.S./China Trade war. Imports drove the strength, advancing at a 23.0% year-over-year (YoY) rate in December. In fact, through each month in 2020's fourth quarter, inbound containers posted increases north of 20% YoY. It's been ten years since we've witnessed such a durable winning streak.
Starting points matter. The surge in port activity is a welcome development for business and incomes up and down the California coast. From a purely technical standpoint, and despite undersupply echoes in the Institute for Supply Management (ISM) Manufacturing and Services reports the National Federation of Independent Business (NFIB) Small Business survey, the outsized strength suggests momentum won't be sustained throughout 2021.
The California Purchasing Managers' Index (PMI) provides an alternative prism into the heat coming off the clinks and clangs of container shipments being unloaded. To that end, the supply chain has never been tighter as seen through the Supplier Deliveries index rising to a record high 69.8 in the first quarter (green line). All 18 manufacturing industries reported a lengthening in delivery times. The top five included (in order): Food, Beverages, Textile Mill Products, Apparel and Paper. What's the common denominators here? All essential and nondurable industries, echoing longer workweeks.
The bottlenecks helped push the Commodity Prices index into nosebleed territory. Prices rose to 81.5 in the first quarter (purple line), the highest since the advent of the trade war in 2018's second and third quarters. From a fundamental valuation perspective, the first quarter's reading was the tenth highest on record, putting it in the 87th percentile. There could be more room to run, but it's limited.
A transport and logistics update wouldn't be complete without a check-in with one of the industry's benchmarks: Cass Information Systems. Data within the Cass Freight Index reflect all domestic freight modes and is derived from $25 billion in freight transactions Cass processes annually on behalf of its client base of hundreds of large shippers. These companies represent a broad sampling of industries including consumer packaged goods, food, automotive, chemical, OEM (original equipment manufacturers), retail and heavy equipment. Annual freight volume per organization ranges from $1 million to over $1 billion. The diversity of shippers and aggregate volume provide a statistically valid representation of North American shipping activity.
The Cass Freight Shipments index is a key gauge that measures shipping volume. It continued its V-shaped recovering through December, advancing at a 6.7% annual rate to close out 2020. The Cass Freight Expenditures (volume times price) index also drew the same V-shape, increasing 13.0% YoY in December. Both paces are two-year highs.
To strip out pricing, divide Expenditures by Shipments. This computation yielded a 6.4% annual rise in December, an 18-month high (yellow line). This was a clear distinction from October's 0.6% gain and a definitive breakout from the uneven path that ensued after the COVID shock hit earlier in the year.
Cass Freight pricing is also flagging higher consumer inflation. We illustrated Cass Freight pricing against the Producer Price Index (PPI) for Personal Consumption (blue line) and the Fed's preferred measure of inflation, the Personal Consumption Expenditure (PCE) Price Index (red line). For perspective, the price metrics track each other over time with a .93 correlation. Cass Freight pricing also informs these consumer price trends with correlations of .74 and .62 to the PPI and PCE over the period depicted.
The post-COVID journey has been long and strange. The tightness in the supply chain has yet to fade, and with it, the more intense freight pricing pressures that generate risks of higher inflation being passed to downstream distribution channels.
With all eyes on inflation, the PPI report will receive more focus than before. Many suppliers reset pricing plans at the turn of the calendar. The January installment (released in February) will provide an instant litmus test to the lengthening delivery times and increased prices evident across the supply chain, especially in the Golden State. 'You're welcome', for the (dead)heads up.