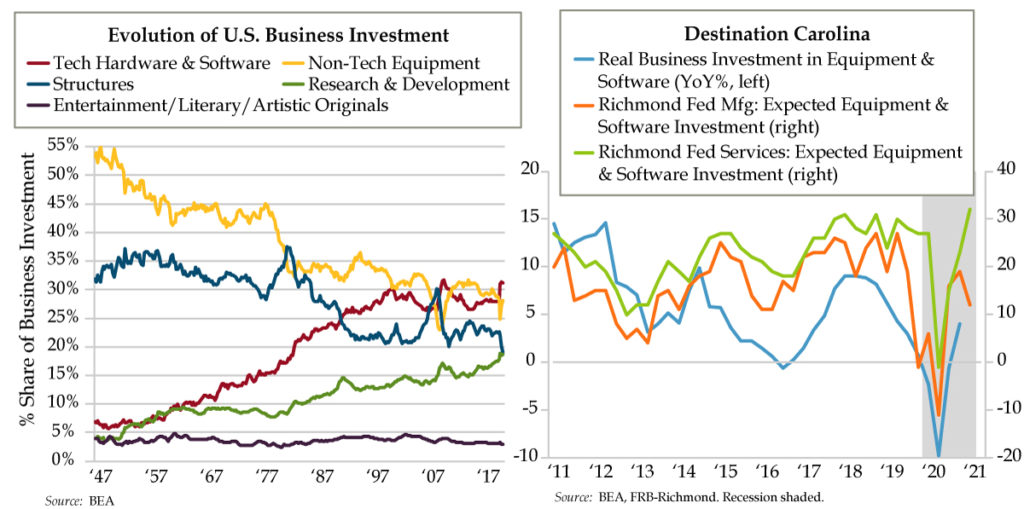 VIPs
By 2020's end, tech reached 31.2% of all business investment, eclipsing the 28.2%, 19.1%, and 18.7% prints for non-tech equipment, structures, and R&D, respectively; tech titans have shifted the investment makeup, now making up more than a fifth of the S&P 500 market cap

Per the Richmond Fed, equipment and software investment in the service sector is out-performing manufacturing, despite last summer's re-opening bounce; The net 32% average for the service sector outshined manufacturing, which trended down in Q1 to a net 12%

Future capex plans, per the Dallas Fed's manufacturing survey, hit a net 24.8% in April, while new orders hit a record high net 38.5%; despite the good signs, half of firms still saw reduced revenues for a typical April, and employment weakness remains an ongoing concern
In 1950, North Carolina ranked nearly dead last in per capita state income. With its dependence on tobacco, textiles and furniture manufacturing, university graduates were leaving the state in droves in search of better jobs. Working with leaders of government and industry, Governor Luther Hodges conceived a bold solution to staunch the brain drain — Research Triangle Park (RTP). In its first few decades, RTP's growth and development, which runs from Durham to Raleigh to Chapel Hill, was dominated by large firms. In time, the intellectually geocentric intensity attracted emerging research and technology companies. To this day, the statistical and analytical expertise that can be tapped from the Triangle's anchor research universities – Duke University, North Carolina State and the University of North Carolina – remain a huge draw.
Be that as it may, the Triangle is but one U.S. educational hub the firms of tomorrow seek out for the future's best and brightest. The competition includes Silicon Valley, the brain center in and around Boston with the Massachusetts Institute of Technology and Harvard at its epicenter, and QI alma mater Austin (Hook 'em!) anchored by the University of Texas.
In the last 73 years, America's postwar business investment evolution is enormous. After World War II, more than 85% of nonresidential investment was concentrated in non-tech equipment and structures. By the 1990s, tech equipment and software spending overtook those of the traditional "plant" expenditures. It wasn't until after the Great Recession that tech eclipsed old-economy equipment spending. By the end of 2020, tech accounted for 31.2% (red line) of all business investment and non-tech a lesser 28.2% (yellow line), while structures fell to 19.1% (blue line) and research and development (R&D) advanced to a nearly identical 18.7% (green line).
The changing face of business investment speaks to the titans of 21st century industry. The big five technology companies of Apple, Microsoft, Alphabet, Amazon and Facebook account for nearly a fifth of the S&P 500 index weight. The first company on this list just yesterday announced that it was planting a flag for a new East Coast hub inside the RTP.
Raleigh's News & Observer reported that Apple plans to invest $1 billion in North Carolina over 10 years, including $552 million to establish a campus in RTP. This new venture will create at least 3,000 new jobs in machine learning, artificial intelligence, software engineering and other advanced fields. Per the North Carolina Department of Commerce, the average paycheck for these positions is estimated to be $187,000 a year. Apple also announced that it will spend another $448 million expanding its data center in Catawba County.
Staying in that same neighborhood, the Richmond Federal Reserve District encompasses a significant slice of Atlantic Coast states including Maryland, North Carolina, South Carolina, Virginia, most of West Virginia and the District of Columbia. Its business surveys provide a soft data prism into the health of the U.S. Southeast. Today's April releases on manufacturing and services may echo other regions' strength. Regardless of how the headline shakes out, there are two series unique to Richmond that provide a distinct angle into the outlook for U.S. business investment.
Today's right chart illustrates the outlook for equipment and software investment for the manufacturing and service sectors in the Richmond District and are exhibited by the orange and green lines, respectively.
One notable takeaway is the sizable outperformance by services over manufacturing, despite last summer's reopening bounce after the spring lockdown. By the first quarter of 2021, the signal for service sector investment rose to a record (net 32% average; March was an even stronger net 41%). On the other hand, manufacturing, downshifted in the winter quarter (net 12% average) that was due to a slow start to the year. The signal emanating from the Southeast is that broader business investment trends in equipment and software (light blue line) would be led by services, not industrials. Apple's view to the future fits right into that mold.
North Carolina isn't the only place looking brighter. In April, at a net 24.8%, future signals for capital expenditures (capex) via the Dallas Fed manufacturing survey nearly matched a post-COVID high. The current and future picture for industrial activity also heated up with record highs for new orders (net 38.5%) and "leading" future inventories (net 24.0%).
All of this said, the Dallas Fed's special questions across the full spectrum of Texas firms still raised some eyebrows. A remarkable 50.1% of firms reporting reduced revenues for a typical April. Given the scale of reopening, one would think there would have been a bigger decline from February's 56.5%. Also notable was the 48.6% of firms in April that reported reduced headcount versus pre-COVID levels in February 2020, UP from 47.3% in February.
Employment weakness in the second largest state economy this far removed from the pandemic's onset likely reveals an element of accelerated automation and permanent labor displacement. To that end, 60% of Texas firms reported they were endeavoring to hire or recall workers. Their top two impediments: a lack of available applicants and generous unemployment benefits.
Carolina capex signals in the form of big-name employers investing in America's future make for good press and better opportunities for those who qualify. In the interim, optimism for capex is just that – a hunch that things will improve. While supportive of hopes for a sustainable recovery, soft data is nevertheless not money spent.