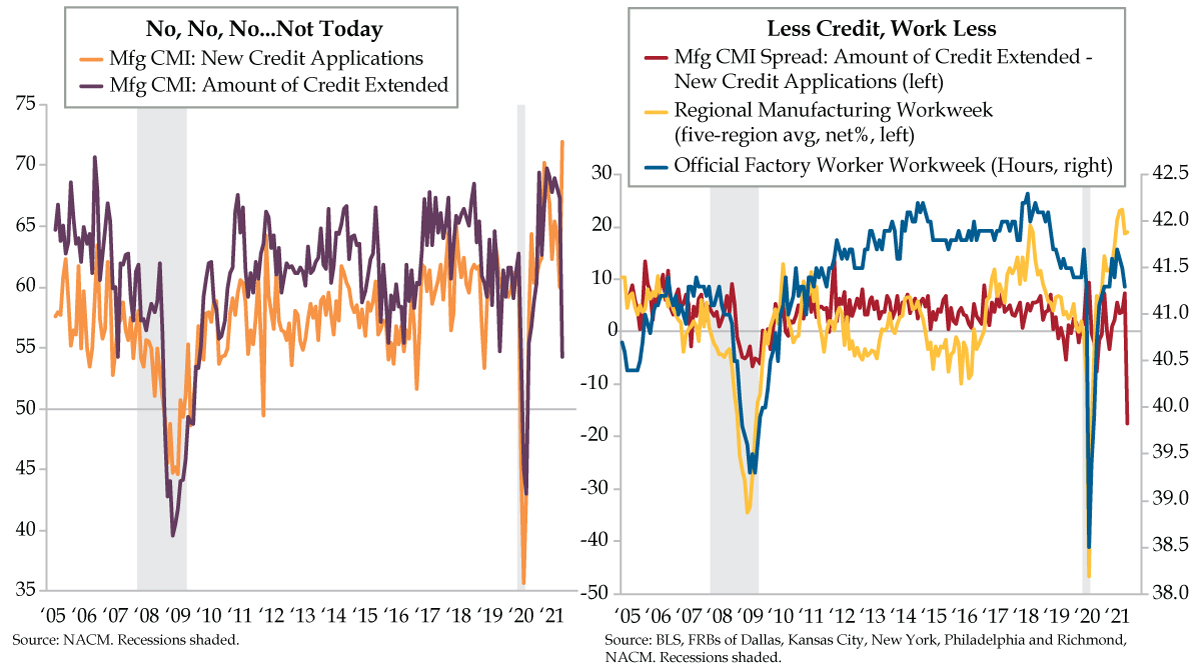 VIPs
At 66.1 in June, the NACM's Services CMI ran 6.1 points ahead of the Manufacturing CMI, a near recovery high; however, the goods-to-services rotation reversed course in July, with the Mfg CMI for new credit applications rising 11.9 points to a record high of 71.9

The Manufacturing CMI for credit extended saw a massive 13-point decline in July to 54.3 as managers are skeptical of current business conditions; while credit applications and credit extended have had a 0.77 correlation from 2005-2020, in 2021 that has flipped to -0.58

The average workweek for manufacturing workers, per regional Fed data, appears to have peaked in May; should the manufacturing workweek shrink in this Friday's employment report, this leading indicator may indicate a pullback in the nation's industrial recovery
Thirty seconds. That's all the advertising business proffers to sell your fill-in-the-blank on TV. Over the years, GEICO has become synonymous with unique and clever ads. With its serious wit, the "Happier Than…" series stands out. And who can forget happier than a witch at a broom factory or Gallagher at a farmer's market or, everyone's all-time favorite, a camel on Wednesday (Hump Daaayyy, yeah!). Did you know a full-grown adult dromedary camel is 7"1' tall at the hump? Another GEICO star stands one inch taller — Dikembe Mutombo, the 18-year veteran of the National Basketball Association (NBA) in which he's an eight-time all-star, a four-time Defensive Player of the Year and second in career blocks. Our favorite lines care of the Congolese American Georgetown grad: "Not in my house," "No, no, no," and "Not today." The finger wag and jolly "Ho, Ho, Ho" are the icing on the cake.
Credit managers are channeling their best Dikembe Mutombo. These futurists, compensated based on ensuring their firms get paid down the road, have quite suddenly tightened the credit extensions spigots, especially to those in the industrial sector. This comes as a surprise to the authors of the National Association of Credit Management's (NACM) monthly Credit Managers' Index (CMI) report.
As a key aside, the whole goods-to-services rotation may have been the most crowded view for 2021. Up until July, this theme was playing out in the most leading of indicators from the NACM survey. The Services CMI for new credit applications was expanding quicker than the sister metric from the Manufacturing CMI. And the spread between the two widened to a near recovery high with the former, at 66.1 in June, running 6.1 points ahead of the latter which was 60.0 in June.
It's as if a switch was flipped in July. The Manufacturing CMI for new credit applications rose 11.9 points to a record high 71.9 since the data's 2005 inception (orange line). In a perfect world, this would have ushered in trumpets blaring and a hallelujah chorus. But the industrial supply chain has been anything but perfect. Shortages of inputs and labor, transportation bottlenecks and cost pressures from too many sources have buffeted manufacturers' cost bases. It's become much more expensive to execute prior business plans.
When budgets get busted, grabs for credit give credit managers pause. "There is some trepidation on the part of credit managers. Although there still seems to be a willingness to extend credit, it might not be in the amounts that have been requested," according to NACM. Just like Dikembe Mutombo blocking a shot, the Manufacturing CMI for amount of credit extended posted an unprecedented 13.0-point decline in July to 54.3 (purple line). Credit managers are saying to customers: "Not in my house."
What's most unusual is both metrics in the left chart have maintained a positive long-term correlation of .77 from 2005 to 2020. In 2021, the relationship was turned on its head with a -.58 correlation. The -17.6-point inversion of credit extended to new applications also broke with history (red line).
Fundamentally, credit smooths out expenses and offers flexibility when free cash flow is challenged by a demand shock or rising prices. With the latter becoming entrenched, access to funding becomes paramount to competing – and expanding – against this economic backdrop. Factory operators who don't get their credit managers' love may be faced with holding the line on costs or scaling back overhead. It's one thing to have to pay more for production materials or ante up for that additional staff member on the assembly line. It's another to bite the bullet and cut output schedules.
There are, of course, workarounds. The notion that firms are taking cost increases lying down is a source of amusement in a world awash in private equity funding. Take Morton Salt, a legend in Corporate America known for its iconic Morton Salt girl. In April, Stone Canyon Industries, a Los-Angeles private equity firm, bought out the 173-year-old firm for $3.2 billion. On Sunday, it was announced that in order to "become more competitive in the salt industry," its new owner is cutting 120 positions from its Chicago headquarters. We'll be watching Thursday's Challenger layoffs for more evidence of the same.
One way to see if production workers are logging fewer hours is through a regional sampling. The Federal Reserve Banks of Dallas, Kansas City, New York, Philadelphia and Richmond all report monthly figures on current average workweeks. We averaged the five readings into one composite (yellow line). The peak was reached in May, June and July indicating a cresting is underway.
Both the credit extended-new apps spread and the five-region manufacturing workweek moved in a cyclical fashion in the Great Recession. What followed? A drop in the official factory worker workweek (blue line), which matters because it's a varsity leading indicator of the U.S. economy and reached an interim apex in March.
The finger wag may be out again in this Friday's U.S. employment report. The nugget to watch is the manufacturing workweek for production and non-supervisory workers. A further decline would indicate not just a pause in the industrial production recovery, but the potential for a sizable shift into reverse for manufacturing output. Zero in on the most cyclical part of the industrial complex, the durable goods workweek and overtime hours at the establishments. It already looks like Dikembe did his work there.